Ed Carnett
Date and Place of Birth: October 21, 1916 Springfield, Missouri
Baseball Experience: Major League
Position: Outfielder-Pitcher
Rank: Unknown
Military Unit: US Navy
Area Served: United States
Major League Stats: Ed Carnett on Baseball-Almanac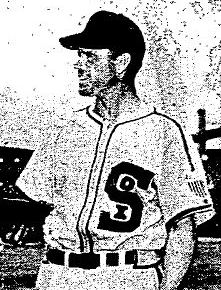 Edwin E. "Ed" Carnett was born on October 21, 1916 in Springfield, Missouri and moved to Ponca City, Oklahoma at an early age. At 17, he signed as a pitcher with the local Ponca City Angels – a Chicago Cubs' farm team – in the Western Association in 1934. In 1935, he was 19-11 with the Angels and his 16-10 record the following season earned him a late-season trial with the Los Angeles Angels in the Pacific Coast League.
In 1937, Carnett had a 15-6 record with Tulsa in the Texas League, but also batted .304 as a part-time outfielder. He was back with Los Angeles in 1938 and the Chicago Cubs gave him a look in spring training 1939. They sent the left-hander to Milwaukee in the American Association, where his 4-11 losing record prompted a move to Kansas City in the same league.
Carnett got his first look at the majors on April 19, 1941 with the Boston Braves. He made two unmemorable relief appearances before returning to Kansas City. He joined Seattle in the Pacific Coast League in 1942 and with that team in 1943, he told his manager Bill Skiff – after a particularly bad outing with no offensive support – that he would never pitch again.
He played the outfield and first base for the Rainiers the remainder of the season and batted .300 with 28 RBIs. Carnett was drafted by the Chicago White Sox in November 1943 and played 126 games as a left fielder and first baseman in 1944. He hit .276 with 60 RBIs and even made two relief appearances on the mound.
The White Sox traded him to the Indians in December 1944 and he hoped to continue his offensive onslaught in Cleveland. However, Carnett's draft status was re-classified 1-A. He was called for a pre-induction physical examination in Cleveland on May 15, and ordered by his Oklahoma City draft board to report for induction July 24. Carnett had played 30 games for the Indians and was batting .219 at the time.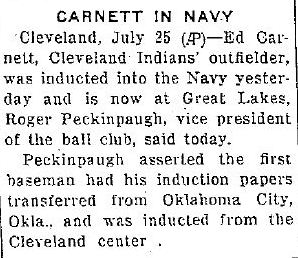 Associated Press July 26, 1945
Carnett served at the Great Lakes Naval Training Center in Illinois, and while going through his basic training he met Bob Feller. Feller was recently returned from active duty in the Pacific and now managed the Great Lakes baseball team. Feller was in the process of perfecting a slider to complement his overpowering fastball and curve. Hearing that Carnett knew how to throw a slider, Feller had a jeep pick him up from his outfit and drive him to the baseball diamond. Carnett schooled the great pitcher on the finer points of the pitch and even donned the catching gear as Feller worked on his mechanics.
Carnett was discharged from service in the spring of 1946. The Indians gave him his unconditional release on April 13, 1946, and he played for Vancouver in the Western International League before being called up to Seattle.
He became a player-manager for the Wichita Falls Spudders and Paris Red Peppers of the Big State League in 1947, and produced his biggest season in the minor leagues in 1948 with the Borger Gassers. He batted .409 that year with 33 home runs and 161 RBIs. Carnett remained with Borger through 1952, batting over .300 each year and winning a number of games on the mound (he was 13-6 in 1950 and 10-6 in 1952).
Carnett then returned to Ponca City in 1954 where he'd started his professional career 20 years previously. He retired from baseball in the late 1950s. He took a job running a country club in Burlington, and later worked for a chemical company, rising to the level of vice-president in charge of sales and marketing.
Created December 18, 2007.
Copyright © 2015 Gary Bedingfield (Baseball in Wartime). All Rights Reserved.