Jim Carlin
Date and Place of Birth: February 23, 1918 Wylam, Alabama
Baseball Experience: Major League
Position: Outfield/Third Base
Rank: Unknown
Military Unit: US Navy
Area Served: Pacific Theater of Operations
Major League Stats: Jim Carlin on Baseball-Almanac
James A "Jim" Carlin was born in Wylam, Alabama on February 23, 1918. Carlin was a standout baseball player at Southeastern Louisiana University in 1937 to 1938. Upon graduation he was signed by the New York Giants and played for the Richmond Colts in the Piedmont League. He was traded to the Washington Senators in December 1938, as part of the deal that sent Zeke Bonura to the Giants.
Carlin was with the Senators for spring training in 1939, but released to the Charlotte Hornets of the Piedmont League in March.
By 1941 he was part of the Philadelphia Phillies' organization, making 16 appearances for the Phillies totalling three hits in 21 at-bats.
Carlin was in military service in 1941. Stationed at Norfolk Naval Training Station in 1942 and 1943, his Blue Jackets teammates included Bob Feller, Fred Hutchinson, Ace Parker, Sam Chapman and Vinnie Smith.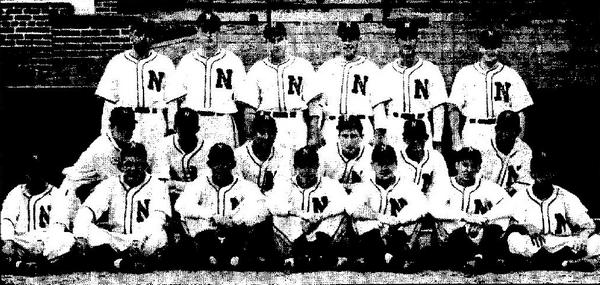 Norfolk Naval Training Station 1942 (Carlin is front row, fifth from left)
On June 15, 1942, Carlin participated in a five-inning baseball game at the Polo Grounds, New York, as part of an all-sports carnival to raise funds for Army-Navy Relief. Bob Feller pitched the navy team to victory against the Army's Hugh Mulcahy. Carlin contributed a three-run home run in the first inning.
In 1944, Carlin was in Hawaii, where he played for the Navy's Aiea Hospital team and was part of the Navy all-star team that defeated the Seventh Army Air Force in the Pacific Wold Series in September.
Carlin was discharged at the end of 1945. Aged 27, and having missed four seasons he was unable to get back in to the game at the major league level. He played a number of years in the minor leagues including two seasons (1947 and 1948) with the Welch Miners of Appalachian League.
Jim Carlin is an inductee in the Southeastern Louisiana University Athletics Hall of Fame.
Created March 15, 2007. Updated March 20, 2007.
Copyright © 2015 Gary Bedingfield (Baseball in Wartime). All Rights Reserved.