Tom Carey
Date and Place of Birth: October 11, 1906 Hoboken, New Jersey
Died: February 21, 1970 Rochester, New York
Baseball Experience: Major League
Position: Second Base
Rank: Seaman Second-Class
Military Unit: US Navy
Area Served: Pacific Theater of Operations
Major League Stats: Tom Carey on Baseball-Almanac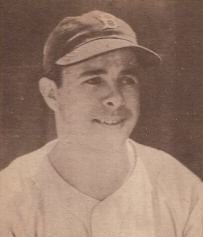 Thomas F A "Tom" Carey was born in Hoboken, New Jersey on October 11, 1906. He signed with Chambersburg of the Blue Ridge League in 1930 and was with Houston of the Texas League the following year. The young shortstop joined Rochester in 1933 and batted .297 in 165 games. The following year he hit .287 and the 28-year0-old was called up to the St Louis Browns in July 1935 when injuries depleted their infield. Carey, who was asked to play second base by manager Rogers Hornsby, despite only having played shortstop and third throughout his pro career, played 76 games and batted .291.
In 1936, Carey was the Browns starting second baseman, playing 134 games and batting .273. He batted .275 in 1937 but was sold to the Red Sox the following year who optioned him to Hollywood of the Pacific Coast League. Carey batted .297 and drove in 65 runs with Hollywood. He joined the Red Sox in 1939 and spent the next three seasons as a utility infielder.
Carey was called into military service on February 23, 1943. A seman second-class in the Navy, he was stationed at Sampson Naval Training Station in New York where he played baseball. He also managed the team for the final few games of the 1943 season. In 1945 he was at Barber's Point Naval Air Station in Hawaii, and was a 14th Naval District All-Star second team selection that year.
When Carey was discharged from service on October 10, 1945, he was day shy of being 39. He returned to the Red Sox but appeared in just three games before becoming a team coach.
Tom Carey passed away in Rochester, New York on February 21, 1970. He was 63.
Created March 30, 2008.
Copyright © 2015 Gary Bedingfield (Baseball in Wartime). All Rights Reserved.