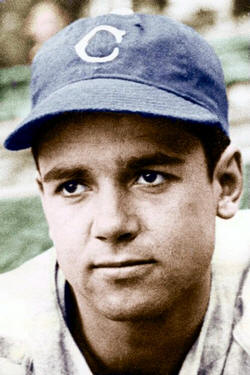 Clarence "Soup" Campbell was born on March 7, 1915 in Sparta, Virginia. He was captain of the Sparta High School baseball team for four years, before attending Hampden-Sydney College - an all-male private four-year liberal arts college in Virginia – where he was a standout for four years in baseball and two years in football.
During the summer months at Hampden-Sydney, Campbell played for the Culpeper semi-pro team – often regarded as the greatest semi-pro team in Virginia. Four members of the team went on to play in the major leagues: Herb Hash joined the Boston Red Sox; Bud Metheny and Walter Beall played for the New York Yankees, and Campbell signed with the Cleveland Indians in 1937.
He was assigned to Tarboro of the Class D Coastal Plain League his rookie year and batted .295 in 32 games. Back with Tarboro in 1938, he batted .314 in 112 games and was promoted to New Orleans of the Class A1 Southern Association for 1939. Campbell continued his fine form at the plate with New Orleans, batting .321 with 69 RBIs. He joined the Cleveland Indians in 1940, made his major league debut on April 21, and played 35 games as a utility outfielder. The next season he appeared in 104 games and batted .250.
Campbell entered military service with the Army Air Force on January 1, 1942. On July 7, he was selected for an All-Service team that played against an American League all-star squad at Cleveland's Municipal Stadium. Before 62,059 fans, the American League beat the servicemen, 5-0.
On January 19, 1943, Campbell was called upon by teammate Bob Feller to be best man at his wedding at Waukegan, Illinois.
Starting as an enlisted man, he steadily rose through the ranks from lieutenant to captain, and by 1945 he was a major and squadron executive officer with the 16th Bomb Group, 315th Bomb Wing of the 20th Air Force based at Northwest Field on Guam – a B-29 Superfortress unit flying bombing missions to Japan.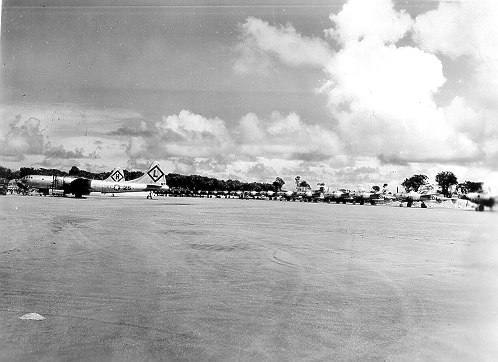 Northwest Field, Guam, where Major Clarence "Soup" Campbell was stationed as
squadron executive officer with the 16th Bomb Group in 1945.
Major Campbell was discharged from service at the end of 1945. He joined the Indians for spring training and vying for the centerfield job he got off to a flying start. He had three hits against the Tigers on March 19, and then hit a pair of two-run home runs against them the following day. A few days later he homered against Cincinnati. But Campbell found himself with Baltimore of the International League when the regular season rolled around and batted .269. Still with Baltimore in 1947, he batted .289 for the year, and played for the Buffalo Stars (a team of International League players) in the International Baseball Tournament in Caracas, Venezuela in September. Campbell retired from professional baseball at the end of the year.
Soup Campbell returned to his home in Sparta, Virginia, where he passed away on February 16, 2000. He was 84.
Created February 20, 2008. Updated January 11, 2015