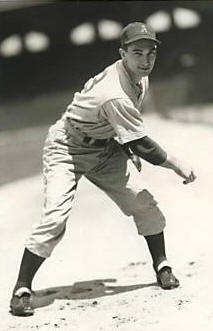 Frederick J. "Fred" Caligiuri was born on October 22, 1918 at West Hickory, Pennsylvania. He attended nearby Endeavor High School where he played basketball and was a star pitcher and dangerous hitter on the baseball team.

Caligiuri signed with the Greenville Greenies of the Coastal Plain League in 1937 and was 8-15 his rookie year. In 1938, he had a 10-7 record with the Greenies and was 8-4 in 1939. Still with Greenville in 1940, Caligiuri put in an all-star performance with a 20-6 record, 2.17 ERA and .270 batting average.

After four seasons of Class D baseball, Caligiuri finally made the jump to Class B in 1941. He joined the Wilmington Blue Rocks – a Philadelphia Athletics farm team – in the Interstate League. However, the young pitcher's season almost ended before it began. The Blue Rocks' bus overturned on a mountainside near Panorama, Virginia. Seven players were injured and Caligiuri suffered arm and leg bruises. Nevertheless, the team still made it to their Interstate League season opener against Lancaster.

Caligiuri had his second successive all-star season in 1941. On May 14, he hurled a 3-0 two-hitter against Trenton, retiring 21 men in succession between John Zarinsky's one-baser that opened the ball game and a single by Al Sabo, the first hitter in the seventh. His 16-7 record and 1.79 ERA captured the attention of Connie Mack, who told the Associated Press on August 15, 1941: "There's a pitcher at Wilmington who's shown a lot of stuff. His name's Freddie Caligiuri and he's young and fast, just what we need."

The 6-foot right-hander got the call from Philadelphia at the end of the Interstate League campaign. He made his major league debut on September 3, and made five starts – completing four of them - before the season closed. He had a 2-2 record and impressive 2.93 ERA.

Caligiuri started the 1942 season with the Athletics but had a few shaky outings and was used primarily in relief. There were occasional moments of brilliance including a late relief performance against the Browns on May 12. With one out in the ninth and the Athletics clinging on to a 5-4 lead, Caligiuri relieved Phil Marchildon and struck out Vern Stephens and Tony Criscola to preserve the win.

The Athletics sent Caligiuri back to Wilmington for the majority of the season where he put in another fine performance with a 12-6 record and 2.19 ERA. He returned to Philadelphia in September and made his last appearance on September 20 – the last day of the season – against the Washington Senators.

On March 15, 1943, Caligiuri entered military service with the Army. He was stationed at New Cumberland Reception Center. Private Caligiuri pitched for the New Cumberland Reception Center team that year. The club had 44 wins against just six losses and Caligiuri was 10-1 in addition to being one of the leading hitters on the team.

He was reassigned to Army amphibious operations and served in English Channel transport, then in the Philippines and other parts of the Pacific Theater. Caligiuri was discharged from service in early 1946. Returning to the Athletics he was out of shape after three seasons away from the game and the Athletics released the 27-year-old on May 8. He returned to Wilmington for the remainder of the season where he was 14-8 with a 3.51 ERA in addition to batting .262 with five home runs.

Caligiuri called it a day after the 1946 season. He moved to Knox, Pennsylvania and became business manager of the Chapman Motor Company, later opening his own business - Rimersburg Motor Company – in nearby Rimersburg.