Bill Burich
Date and Place of Birth: May 29, 1918 Calumet, Michigan
Baseball Experience: Major League
Position: Shortstop
Rank: Corporal
Military Unit: 91st Infantry Division US Army
Area Served: Mediterranean Theater of Operations
Major League Stats: Bill Burich on Baseball-Almanac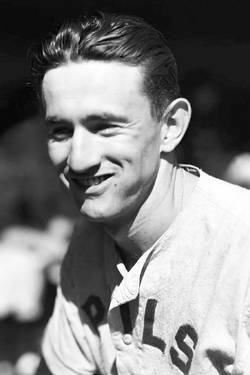 William M "Bill" Burich was born on May 29, 1918 in Calumet, Michigan, a village in Houghton County that was once at the center of the mining industry of the Upper Peninsula.

Burich began his professional career with the Rogers Lions in the Arkansas-Missouri League in 1937. The 19-year-old batted .301 with 62 RBIs his rookie year in Class D baseball and advanced to the Joplin Miners in the Class C Western Association for 1938 where he batted .293.

The young shortstop joined the Brooklyn Dodgers' organization in 1939 and played for the Paducah Indians of the Kitty League where continued to swing the bat well with a .317 average. In 1940, he joined the Olean Oilers in the PONY League and jumped to the Interstate League Allentown Wings in the Phillies' organization for 1941, batting .281 with 10 home runs and 67 RBIs.

Burich joined the Phillies in 1942, making his major league debut on the second day of the season (April 15) against the Boston Braves. In 25 games, Burich hit .288 but committed eight errors and finished the season with Williamsport in the Eastern League.

He entered military service the following year and served with military police unit of the 91st Infantry Division at Camp White, Oregon. Burich still had time for baseball and the 91st Division Travelers were Camp White champions in 1943. The team's line-up included White Sox pitcher Ed Smith and future major leaguer Bud Hardin.

Encuentra el mejor casino en linea colombia

.

In 1944, Corporal Burich left Oregon with the 91st Infantry Division for Italy. He continued to play baseball with the Travelers and -representing the Fifth Army - they won the NATOUSA (North Africa Theater of Operations US Army) championship at the Polo Grounds in Naples, defeating the Corsica Red Wings, 7-1, in finals. Burich hit a two-run single in second inning to put his team ahead. All players on the winning team each received a wristwatch.

Burich was discharged from service in late 1945 and returned to the Phillies in 1946. He played just two games in the majors that year and spent the remainder of the season with Columbus in the American Association.

He was released by the Phillies in March 1947, and joined Meridian in the Southeastern League where he hit .245. His final year in baseball was as player-manager with the Nazareth Barons of the North Atlantic League in 1948.

Created December 17, 2007. Updated January 11, 2015

Copyright © 2015 Gary Bedingfield (Baseball in Wartime). All Rights Reserved.