Roy Bruner
Date and Place of Birth: February 10, 1917 Cecilia, Kentucky
Died: November 30, 1986 St Matthews, Kentucky
Baseball Experience: Major League
Position: Pitcher
Rank: Lieutenant
Military Unit: USAAF
Area Served: European Theater of Operations
Major League Stats: Roy Bruner on Baseball-Almanac
Roy Bruner, 23-year-old pitcher for the Philadelphia National League team, received notice from his Louisville, Ky., draft board today to appear for physical examination.
Associated Press May 29, 1941.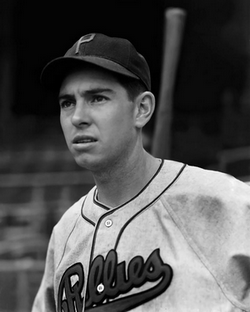 Walter R "Roy" Bruner was born on February 10, 1917 in Cecilia, Kentucky.
He had been pitching for the Baltimore Orioles in the International League when, at 22, he was called up by the Philadelphia Phillies and made his major league debut on September 14, 1939. Bruner would make four starts that season and lose all four decisions for an inflated 6.67 earned run average.
Bruner was back with Baltimore in 1940, posting a 7-12 record and made two relief appearances for Phillies. In 1941, he started the season with Philadelphia and hurled 13 games for an 0-3 record. Then, on May 29, 1941 he received notice from his Louisville draft board to appear for physical examination. The following month, on June 24, he was sold outright to the Rochester Red Wings where he finished the season.
Bruner entered military service October 10, 1941. He served with the Army Air Force in Europe as a bombardier with the rank of lieutenant and flew 50 missions. Bruner returned to the United States in July 1944.
He was back with the Rochester Red Wings in 1946 and spent the 1947 season with Birmingham. He later became an officer of The Bullpen Club in the Louisville Hot Stove baseball organization.
Roy Bruner passed away on November 30, 1986 in St Matthews, Kentucky. He was 69 years old and is buried at Resthaven Memorial Park in Louisville, Kentucky.
Created March 28, 2007. Updated January 11, 2015
Copyright © 2015 Gary Bedingfield (Baseball in Wartime). All Rights Reserved.