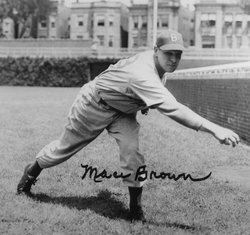 Mace S Brown was born on May 21, 1909 in North English, Iowa. He attended the University of Iowa on a track scholarship, but soon became a standout catcher before switching to the mound.
He was signed by the St Louis Cardinals in 1930 and had stops at Greensboro, Shawnee, St Joseph, Durham, Danville, Springfield, Des Moines and Kansas City before joining the Pittsburgh Pirates organization in 1934.
Pitching for the Tulsa Oilers of the Texas League, Brown was 19-12 with a 3.53 ERA in 1934, and made his major league debut with the Pirates the following season. Primarily, a relief pitcher throughout his career, Brown was 15-9 in 51 outings with the Pirates in 1938 and pitched three innings in the all-star game.
He was purchased by the Brooklyn Dodgers on April 22, 1941 and then sold to the Boston Red Sox in December. He made 34 appearances for the Red Sox in 1942 and led the American League by appearing in 49 games for a 2.12 ERA in 1943.
Brown entered military service on March 13, 1944. He was sworn in as a lieutenant, junior grade at Raleigh, North Carolina, and served at Norfolk Naval Training Station where he regularly pitched for the ball team.
In March 1945, he was assigned to the Honolulu Naval Air Station in Hawaii, with the welfare and athletic department. After three months he was shipped to Guam and served there with the Marine Corps Island Command. He also toured the Western Pacific Islands with the US Navy all-star team.
Brown received his discharge on January 6, 1946. He was overweight and out of shape from not having played regularly, and reported to spring training two weeks early to get into shape. He pulled a ligament in his elbow during a spring training game and never fully recovered. He made 18 appearances for the Red Sox in 1946 and was released at the end of the year.
He went on to become a scout with the Red Sox and worked with the organization for many years.
Mace Brown passed away on March 24, 2002 at the age of 92. He was buried in his Red Sox uniform in Greensboro, North Carolina.
Created February 11, 2008.