Go on, why not sponsor this page for $5.00 and have your own message appear in this space.


Click here for details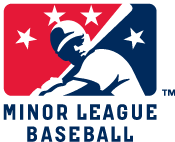 Mel Brookey
Date and Place of Birth: July 15, 1925 Henryetta, OK
Died: July 13, 2008 Kenner, Louisiana
Baseball Experience: Minor League
Position: Catcher
Rank: Unknown
Military Unit: US Marine Corps
Area Served: Pacific Theater of Operations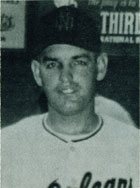 Brookey played baseball and football at Henryetta High School in Oklahoma, where he was an all-state guard and named to the first teams of the Daily Oklahoman and Tulsa World. Following graduation in 1943 he was the catcher with the Mosier's team in Oklahoma City and then joined the Utah Copper Company's Gemmell Club in the Utah Industrial League.

Brookey entered military service with the Marine Corps in September 1943 and was stationed at the Marine Corps Air Station Santa Barbara at Goleta, California, where he was the star of the baseball team and according to Marine Corps publication, The Beam, "his arm dampened the enthusiasm of many would-be baserunners."

Brookey was in Hawaii in 1945 and caught for the Marine Flyers B team in the Fleet Marine Force League during the early part of the season. later in the year he joined the Ewa Marine Flyers team in the 14th Naval District League and proved to be a potent hitter.

Following military service Brookey signed with the Philadelphia Phillies and joined the Salina Blue Jays in 1946, batting .294. He was a league all-star with Salina the following season and then played two years with the Terre Haute Phillies. Brookey joined the New Orleans Pelicans in 1950 and remained with the team through 1953 when he batted .266 with 52 RBIs. He ended his career with the Denver Bears in 1954.

Brookey, who ran a construction business in Kenner, Louisiana, died in July 2008, aged 82.
Created November 17, 2007. Updated March 16, 2021.
Copyright © 2021 Gary Bedingfield (Baseball in Wartime). All Rights Reserved.