Go on, why not sponsor this page for $5.00 and have your own message appear in this space.


Click here for details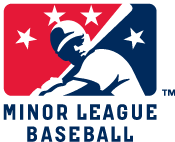 Mel Brookey
Date and Place of Birth: 1925 Louisiana
Died: July 13, 2008 Kenner, Louisiana
Baseball Experience: Minor League
Position: Catcher
Rank: Unknown
Military Unit: US Marine Corps
Area Served: Pacific Theater of Operations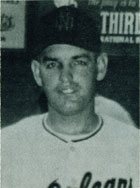 Melvin O "Mel" Brookey played high school baseball in Oklahoma before the war but refused to sign with a professional club anticipating the draft and wanting to go to college.
Brookey was drafted and served with the Marine Corps in Hawaii where he caught for the Marine ball team.
Following military service Brookey signed with the Philadelphia Phillies and was assigned to the Salina Blue Jays of the Western Association in 1946 and batted .294. He was a league all-star with Salina the following season and then played two years with the Terre Haute Phillies of the Three-I League.
Brookey joined the Pelicans in 1950 and remained with the team through 1953 when he batted .266 with 52 RBIs. He ended his career with the Denver Bears of the Western League in 1954.
Mel Brookey attended the Duty, Honor, Country: When Baseball Went to War convention in New Orleans in November 2007. He passed away on July 13, 2008, aged 83.
Created November 17, 2007. Updated August 18, 2008.
Copyright © 2008 Gary Bedingfield (Baseball in Wartime). All Rights Reserved.