Bobby Bragan
Date and Place of Birth: October 30, 1917 Birmingham, Alabama
Baseball Experience: Major League
Position: Shortstop-Catcher
Rank: Lieutenant
Military Unit: US Army
Area Served: United States
Major League Stats: Bobby Bragan on Baseball-Almanac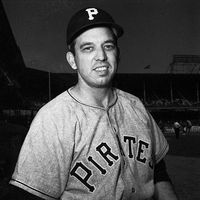 Robert R "Bobby" Bragan was born in Birmingham, Alabama on October 30, 1917. He signed with Panama of the Alabama-Florida League in 1937 and batted .285 with 56 RBIs. In 1938, the young shortstop was with Pensacola of the Southeastern League and batted .298. He hit .311 the following season and joined the Philadelphia Phillies for spring training in 1940.
Bragan played 122 games for the Phillies in his rookie season and batted .222. He played all 154 games of the 1941 season and made 109 appearances in 1942, including 22 games as a catcher. He was traded to the Dodgers in the spring of 1943 and played 74 games, mainly as a catcher, and batted .264.
Bragan split time between shortstop and catcher in 1944 and batted .267 in 94 games. Anticipating military induction at the beginning of 1945, Bragan stayed home in Alabama, worked in a defense plant, and wrote a daily sports column for the Birmingham Post.
He was inducted in the Army on April 19, 1945 at Fort McClellan, Alabama, and served as a lieutenant at Camp Wheeler, Georgia.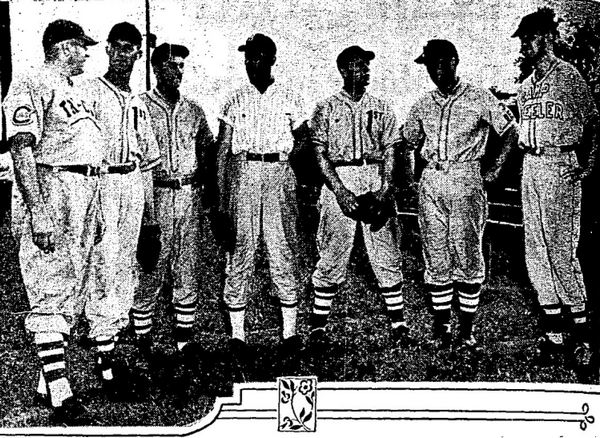 Bobby Bragan at Camp Wheeler, Georgia in 1945 (Bragan is second from right)
Bragan was discharged from military service on February 1, 1947. He immediately returned to the Dodgers and played 25 games as a back-up catcher. Bragan clashed with Branch Rickey that year over the Dodgers' breaking of the baseball color line after the major-league debut of Jackie Robinson. He was one of a group of white players, largely from the South, who signed a petition against Robinson's presence. He even asked Rickey to trade him. But Bragan quickly relented. "After just one road trip, I saw the quality of Jackie the man and the player," Bragan told mlb.com in 2005. "I told Mr. Rickey I had changed my mind and I was honored to be a teammate of Jackie Robinson."
Bragan played just nine games with the Dodgers in 1948 before joining the Fort Worth Cats of the Texas League as player-manager. He won his first championship that season with the Cats and repeated the feat in 1949. Bragan remained with the team through the 1952 season, and joined Hollywood in the Pacific Coast League in 1953.
Bragan made his major league managerial debut with the Pittsburgh Pirates in 1956, and skippered the Indians in 1958. He managed the Braves from 1963 to 1966. He became president of the Texas League in 1969, and was so successful, in 1975, he was elected president of the minor leagues' governing body, the National Association of Professional Baseball Leagues.
Bobby Bragan was elected to the Alabama Sports Hall of Fame in 1980 and the Texas Sports Hall of Fame in 2005.
Created December 16, 2007.
Copyright © 2015 Gary Bedingfield (Baseball in Wartime). All Rights Reserved.