Charlie Bowles
Date and Place of Birth: March 15, 1917 Norwood, Massachusetts
Died: December 23, 2003 Newton, North Carolina
Baseball Experience: Major League
Position: Pitcher
Rank: Major
Military Unit: 2nd Air Corps, USAAF
Area Served: United States
Major League Stats: Charlie Bowles on Baseball-Almanac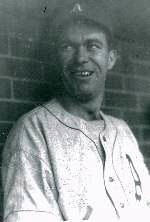 Charles J "Charlie" Bowles was born in Norwood, Massachusetts on March 15, 1917.
Bowles posted a 1-1 record in two complete game outings with the Philadelphia Athletics in 1943 before joining the Army Air Force.
Bowles took and passed the Air Corps Potential Air Cadet Exam shortly after he was inducted at Fort Thomas, Kentucky. He took basic training at Miami Beach where he was classified a Physical Training Instructor. He was assigned to Walker Field in Victoria, Kansas - a training center for Boeing B-29 Superfortress crews - during which time Hank Greenberg passed through before being assigned to the CBI Theater. The command was later moved to Colorado Springs and became the Second Air Corps under the command of General Curtis LeMay.
Bowles described LeMay as "a real stickler for rules and regulations, but fair. My duty as an instructor was to teach air crews to swim and to tread water should they get shot down over the ocean.
"When the crews were not on flying missions they were compelled to have daily exercise programs. In the fall, they played touch football, volleyball or badminton. During the winter, it would be basketball, in the spring, softball and baseball. The crews enjoyed it all."
After military service he returned to the Athletics in 1945 and posted an 0-3 record in eight games.
Bowles later managed in the minors with Hickory in the North Carolina State League, and also worked as a sportswriter in that town. When he was in his seventies he accepted the position of pitching coach at Lenoir Rhyne College in North Carolina.
Charlie Bowles passed away on December 23, 2003, in Newton, North Carolina. He was 86 years old.
Thanks to the late Charlie Bowles and his daughter, Beverlee Bowles-LeNoir, for help with this biography.
Created April 13, 2007.
Copyright © 2015 Gary Bedingfield (Baseball in Wartime). All Rights Reserved.