Grover Bowers
Date and Place of Birth: March 25, 1923 Parkin, Arkansas
Died: September 17, 1996 Wynne, Arkansas
Baseball Experience: Major League
Position: Outfield
Rank: Unknown
Military Unit: US Army
Area Served: European Theater of Operations
Major League Stats: Grover Bowers on Baseball-Almanac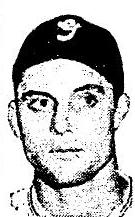 Grover B "Billy" Bowers was born on March 25, 1923 in Parkin, Arkansas. He signed with the Memphis Chicks of the Southern Association in 1943 and batted .290 in 80 games.
In 1944, the Chicks' leftfielder entered military service on June 20. He served in Europe with the Army and received three battle stars.
Bowers returned home in 1946 and joined the Memphis team for spring training. He was optioned to the Gadsden Pilots of the Class B Southeastern League in April and batted .321 with selection to the all-star team. Bowers was on fire with Gadsden in 1947. He led the league in runs scored, hits and total bases and .375 batting average, joining the White Sox via Memphis at the end of the season.
As the Chicks' leftfielder in 1948, Bowers hit .346, with a 30-game hitting streak during which he batted .434. At the end of the season The Sporting News labeled him "one of the brightest White Sox prospects."
Bowers joined the White Sox at the start of the 1949 season, making his major league debut on April 24. Playing in 26 games he batted just .192 and returned to Memphis in June where he batted only .247 in 85 games.
In March 1950, Bowers relinquished his chances at a major league career in favor of the pulpit. At his own request he was released to Gadsden in order that he might return to his home in Parkin, Arkansas each Sunday to preach. Bowers had threatened to quit if his request was denied and he was given his unconditional release by the White Sox.
Bowers spent the 1950 season with Gadsden but made a comeback bid in 1951, joining the Toronto Maple Leafs of the International League and even playing winter baseball in Venezuela.
But on July 3, 1952 he was suspended by Toronto for jumping club and returning to his home in Parkin. In a note to manager Joe Becker he indicated financial worries and poor health had prompted the move. He also requested to be traded to a Southern Association club to be nearer his home. Bowers was back with Toronto in August but it was his last season in baseball.
Bowers coached college baseball for some time and in 1961 he led Rhodes College of Memphis, Tennessee to the Southwestern NCAA title, for which he was later inducted in the Rhodes College Athletics Hall of Fame.
During the 1970s, Bowers served as Recreational Director with Osceola City Council in Arkansas.
Grover Bowers passed away on September 17, 1996 in Wynne, Arkansas. He was 73 years old.
Created August 23, 2007.
Copyright © 2015 Gary Bedingfield (Baseball in Wartime). All Rights Reserved.