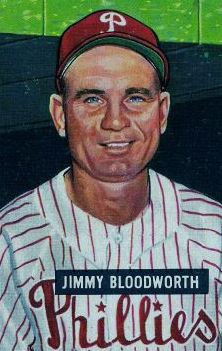 James H "Jimmy" Bloodworth was born on July 26, 1917 in Tallahassee, Florida. An excellent defensive player, he began his career professional career with Panama City in 1935. He was with Columbia of the South Atlantic League in 1936, Chattanooga of the Southern Association in 1937, and joined the Washington Senators for 15 games at the end of 1937.
Bloodworth was back with Chattanooga in 1938, but became Washington's starting second baseman in 1939, playing in 83 games, batting .289 and driving in 40 runs. The next year, 1940, he played in 119 games he in he hit .245 with 11 home runs and 70 runs batted in, a career high. He was traded to the Tigers in 1942 and was with them when he entered military service on December 15, 1943.
Bloodworth served with the Army at Fort Leonard Wood, Missouri. "I just went in," he later recalled, "and did what I was told and hoped and prayed that the war ended as soon as it could."
Bloodworth was discharged from service on April 15, 1946 and rejoined the Detroit Tigers for 76 games. He was purchased by the Pirates for 1947 and joined the Brooklyn Dodgers in 1948 but was assigned to Montreal of the International League where he was the league MVP. Bloodworth was back in the majors with the Cincinnati Reds in 1949, joined the Phillies in May 1950 and appeared in one game of the World Series.
1951 was Bloodworth's last season in the major leagues. He played in the minors for the next three years and managed in the minors for two years. "I think," Bloodworth later said, "that I played in the greatest era of baseball that anybody could play in."
Bloodworth later served as deputy sheriff in Apalachicola, Florida. He passed away in Apalachicola on August 20, 2002, aged 85.
Created March 31, 2008.