Cy Block
Date and Place of Birth: May 4, 1919 Brooklyn, New York
Died: September 22, 2004 Lake Success, New York
Baseball Experience: Major League
Position: Infield
Rank: Specialist
Military Unit: US Coast Guard
Area Served: United States
Major League Stats: Cy Block on Baseball-Almanac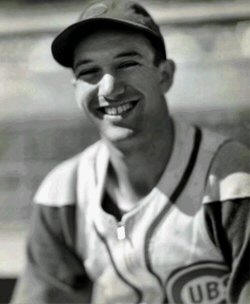 Seymour "Cy" Block was born on May 4, 1919 in Brooklyn, New York. He signed with Paragould of the Northeast Arkansas League in 1938 and played 105 games at second base his rookie year, batting .322 with 74 RBIs.
He joined Greenville of the Cotton States League in 1939 and batted .312, advancing to Macon of the Class B South Atlantic League where he spent two seasons and continued to bat over .300 (including a league-leading .357 in 1941).
The 23-year-old infielder played for Tulsa of the Texas League in 1942 and batted .276 in 125 games, earning a September call-up by the Chicago Cubs. In nine games with the Cubs, Block batted .364 (12 for 33).
A promising career at the major league level was put on hold when service with the Coast Guard beckoned in April 1943. Block was stationed at Ellis Island, New York where he continued to play baseball – one of his teammates was Giants' catcher Jack Aragon.
Block was discharged from service in September 1945 and immediately joined the Cubs and they pushed for the National League pennant. Although he appeared in only two regular season games he appeared in one World Series game against the Tigers.
Block spent most of the 1946 season with Nashville of the Southern Association although he did play in six games for the Cubs and batted .231. He was back with Nashville in 1947 and was one of the top hitters in the league with a .360 average. He spent the next three years with Buffalo of the International League before retiring from the game.
Cy Block passed away on September 22, 2004 in Lake Success, New York. He was 85.
Created May 25, 2008. Updated January 11, 2015
Copyright © 2015 Gary Bedingfield (Baseball in Wartime). All Rights Reserved.