Jack Blaylock
Date and Place of Birth: February 11, 1925 Oak Ridge, North Carolina
Died: April 14, 2016 Kernersville, North Carolina
Baseball Experience: Minor League
Position: Catcher
Rank: Aviation Radioman, Third Class (ARM3c)
Military Unit: US Navy
Area Served: United States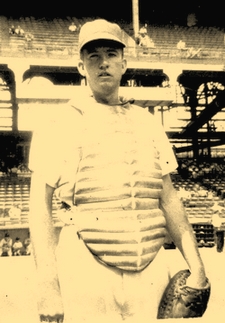 John W. "Jack" Blaylock, the son of Thomas and Goldie Blaylock, was born February 11, 1925, in Oak Ridge, North Carolina. He was an outstanding catcher at Oak Ridge Academy and in American Legion baseball. In 1943, and just out of high school, Blaylock had the attention of the New York Giants and even traveled with the team on their final western trip to Chicago and St. Louis, at the end of the season. But military service intervened before the 18-year-old could pull on a professional baseball uniform.

Blaylock was inducted in the Navy on November 16, 1943. He took 20 weeks training at Naval Air Technical Training Command Memphis, Tennessee, and a further five weeks at Naval Air Gunners School Purcell, Oklahoma, before moving on to Naval Training Station Bainbridge, Maryland. Aviation Radioman, Third Class Blaylock trained to be a radio operator/gunner in the Curtiss SB2C Helldiver, a carrier-based dive bomber. He was at Naval Air Station Miami, Florida, and Naval Air Station Wildwood, New Jersey.

While at NAS Wildwood, Blaylock's plane was involved in a crash landing that he was lucky to survive, but left him with both his shoulders and four ribs broken, and a large gash in his lip. These injuries were to have a major impact on his baseball career.

Blaylock was honorably discharged from the Navy on April 29, 1946. He decided to give baseball a try and joined the Brooklyn Dodgers' organization, reporting to the Newport News Dodgers of the Class B Piedmont League. In June 1946, he was assigned to the Johnstown Johnnies of the Class C Middle Atlantic League, playing 49 games and batting .154. He joined the Ponca City Dodgers of the Class D K-O-M League in July 1947, and batted .208 in 17 games. His playing career seemed to be going nowhere, but Branch Rickey befriended the young military veteran and gave him a job as the Dodgers bullpen catcher for 1948. He even got a $224.68 share of the Dodgers third-place finish that year. He handled a pitching staff that included Carl Erskine, Rex Barney and Ralph Branca, and was part of a team that included Jackie Robinson, Roy Campanella and Pee Wee Reese. "That was a great bunch of guys," Blaylock recalled. "They treated me like I was a .300 hitter instead of the bullpen catcher."

However, Blaylock knew he'd never be able to play at that level. "I couldn't hit the inside curve like I used to," he said. "Some days I could hardly throw the ball. Other days I could do pretty well.

"I realized I needed to get back home and get an education, and start a new career. I enrolled in the University of North Carolina."

Blaylock was to give baseball one more try in the 1950s. He played for the Elkin Blanketeers of the Class D Blue Ridge League in 1950, batting .239 in 104 games, and signed with the Statesville Owls of Class D North Carolina State League for 1951, but, instead, was hired by Kernersville High School as head coach of athletics. Under his leadership, the school's athletic program began to thrive, and Coach Blaylock led the school baseball team to two state championships in 1957 and 1958 - the first back-to-back winners in North Carolina.

"The thing about coach Blaylock," recalled one of his students, "was that he put everyone on the same level. Nobody was better than anyone else in his eyes. That meant a lot to me because some of us were not as good (at athletics) as others."

Jack Blaylock passed away peacefully on April 14, 2016, at his home in Kernersville, North Carolina. He was 91 years old and is buried at Eastlawn Gardens of Memory in Kernersville.

A portrait of Blaylock hangs on the wall of fame in a meeting room at the Olympic Family Restaurant in Kernersville.
Thanks to John Hall for help with this biography.
Created January 7, 2018
Copyright © 2018 Gary Bedingfield (Baseball in Wartime). All Rights Reserved.