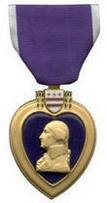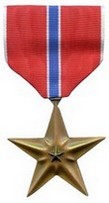 Jim Bivin
Date and Place of Birth: December 11, 1909 Jackson, Mississippi
Died: November 7, 1982 Pueblo, Colorado
Baseball Experience: Major League
Position: Pitcher
Rank: Private First Class
Military Unit: 2nd Marine Division, USMC
Area Served: Pacific Theater of Operations
Major League Stats: Jim Bivin on Baseball-Almanac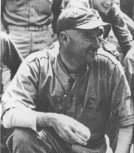 James N "Jim" Bivin was born in Jackson, Mississippi on December 11, 1909. The 6-foot right-handed pitcher began his professional baseball career with Quincy in 1930.
He was 15-7 with the Tulsa Oilers in 1932, and made his major league debut with the Philadelphia Phillies on April 16, 1935.
It was to be his only major league season and he posted a 2-9 record in 47 appearances and a 5.79 ERA.
Despite the briefness of his major league career, Bivin is remembered for two events. On May 24, 1935, he was a relief pitcher in the Phillies 2-1 loss to the Reds in the first major league game ever played under floodlights at Cincinnati's Crosley Field. Then, on May 30, in the first game of a doubleheader against the Braves, he was the last major league pitcher to face the great Babe Ruth. Ruth grounded to first baseman Dolph Camilli in the first inning and never played again.
In November 1935, the Phillies sold Bivin to Baltimore. He spent the winter of 1935/36 working on a freighter between the East Coast of the United States and British ports.
In 1937, Bivin was 7-6 with Galveston of the Texas League. He joined Shreveport in the same league in 1938 and was 15-14. Bivin remained with Shreveport in 1939, then joined the Richmond Colts of the Piedmont League for the 1940 season. It was to be his best season in organized baseball as he pitched a no-hitter on his way to being a 20-game winner.
Bivin was still pitching for Richmond in July 1942, and had a 7-7 won-loss record when he enlisted in the Marine Corps.
Private First Class Bivin served with a quartermaster unit of the 2nd Marine Division in the Pacific Theater. He landed on Tarawa in November 1943. "Those machine gun bullets whizzed by us a heck of a lot faster than the line drives I used to duck in the pitchers' box," he told Marine Corps combat correspondent Peter Zurlinden. "And, you can at least see a line drive most of the time."
In early 1944 Bivin was on Guam, where he hurled for the 2nd Marine Division baseball team in the Marine Corps championships. His teammates included big league hurlers Cal Dorsett and Bill Connelly. He later landed at Saipan in June 1944 and Iwo Jima in February 1945. Bivin returned home in late 1945 with a Purple Heart and two Bronze Stars.
Now 36 years old, Bivin was back with Richmond in 1946 and posted a 6-10 record with a 4.88 ERA. In 1947 he became manager of Greenwood in the Cotton States League.
Bivin remained a manager in the minors with stints at Pueblo in the Western League in 1951, and Lancaster of the Inter-State League in 1952. It was at Lancaster, on June 7, 1952, that Bivin was ejected from a game for the first time in his 23-year professional career when he objected too strenuously to a decision at second base during a game against York.
Jim Bivin later worked for Colorado State Hospital. He passed away on November 7, 1982, in Pueblo, Colorado, aged 72.
Created February 26, 2021.
Copyright © 2021 Gary Bedingfield (Baseball in Wartime). All Rights Reserved.