Lou Bevil
Date and Place of Birth: November 27, 1922 Nelson, Illinois
Died: February 1, 1973 Dixon, Illinois
Baseball Experience: Major League
Position: Pitcher
Rank: Unknown
Military Unit: US Army
Area Served: United States
Major League Stats: Lou Bevil on Baseball-Almanac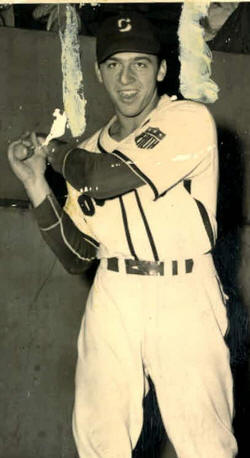 Louis E "Lou" Bevil (born Louis E Bevilacqua) was born on November 27, 1922 in Nelson, Illinois, 100 miles west of Chicago.
He attended Notre Dame in 1939 and signed a professional baseball contract with the Washington Senators in 1940, joining the DeLand Red Hats of the Florida State League. Bevil was 11-21 in his rookie season and was 17-15 with the Thomasville Lookouts of the Georgia-Florida League in 1941.
In 1942, he moved up to Chattanooga in the Southern Association and his 13 wins earned him a late-season promotion to the Senators. He made four appearances in Washington, had one start and finished with a 0-1 record and 6.52 ERA. Bevil – who worked as a railroad fireman during the off-season – was described by The Sporting News on May 28, 1942, as being "built like a blacksmith and [having] the unconquerable fighting spirit of a bulldog."
Bevil entered military service with the Army after the season and was based at Camp Beale in Marysville, California, where he pitched for the base team.
Bevil returned to baseball in 1946. He was optioned by the Senators to Chattanooga but played only a handful of games before being sent to Orlando in the Florida State League where he was 9-3. The switch-hitting right-hander also batted .296 on the year and in 1947 he batted .304 with 73 RBIs as a utility man.
He became player-manager of Orlando in 1948 and won his first 12 games, finishing with a 19-7 record and batting .365, which earned a call-up to the Senators for spring training the following year. The 26-year-old wasn't retained by Washington and returned to the Florida State League with Daytona Beach Islanders where he won 19 games and clouted a league-record 18 home runs. However, the following season was Bevil's last in organized baseball finishing up with Anniston in the Southeastern League.
Lou Bevil succumbed to cancer in Dixon, Illinois on February 1, 1973. He was only 50 years old.
Created December 10, 2007. Updated January 11, 2015
Copyright © 2015 Gary Bedingfield (Baseball in Wartime). All Rights Reserved.