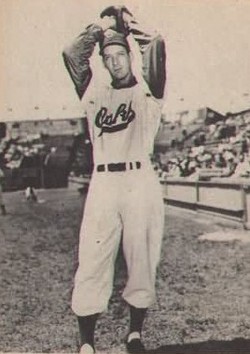 Henry B "Hank" Behrman was born on June 27, 1921 in Brooklyn, New York. He was signed by his hometown Brooklyn Dodgers in 1941 and played for the Valdosta Trojans in the Georgia-Florida League where he was 18-10 with a 3.10 earned run average.
In 1942, he was 14-11 with Durham in the Piedmont League and entered military service on October 5, 1942.
Stationed at Alliance Army Air Base, Nebraska with the 326th Glider Infantry Regiment, Behrman pitched for the Alliance team in the semi-pro tournament at Wichita, Kansas. Following an impressive 5-1 win against the Las Vegas Army Air Field Horned Toads - Nevada champions - Behrman was hailed by several scouts as the outstanding mound prospect in the tournament.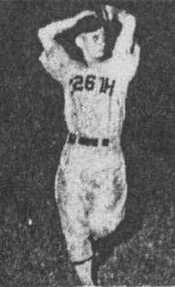 On January 13, 1945, the 326th moved to Camp Shanks, New York for overseas deployment. They landed in LeHavre, France on February 6. From then until the German surrender on May 7, 1945, the 326th was alerted several times for possible operations, however each time the fast moving Army ground forces pre-empted the need for an airborne operation.
<![if !supportLineBreakNewLine]>
<![endif]>With peace in Europe came the opportunity for Behrman to play ball again. In addition to pitching for the 326th Glider Infantry Regiment, he was selected to play for the 13th Airborne Division Black Cats – a team that featured the talents of Merv Connors and Dave Koslo. The Black Cats finished the season with a remarkable 33-4 record.

The 326th Glider Infantry Regiment arrived in New York Harbor on August 27 and was deactivated soon after at Camp Kilmer, New Jersey. Behrman's discharge came on January 30 and he joined the Montreal Royals at their spring training camp in Daytona Beach, Florida that year. He had been receiving glowing praise about his pitching for military teams from Dodgers' farm director, Branch Ricky Jr, and was on the Brooklyn roster for the start of the season.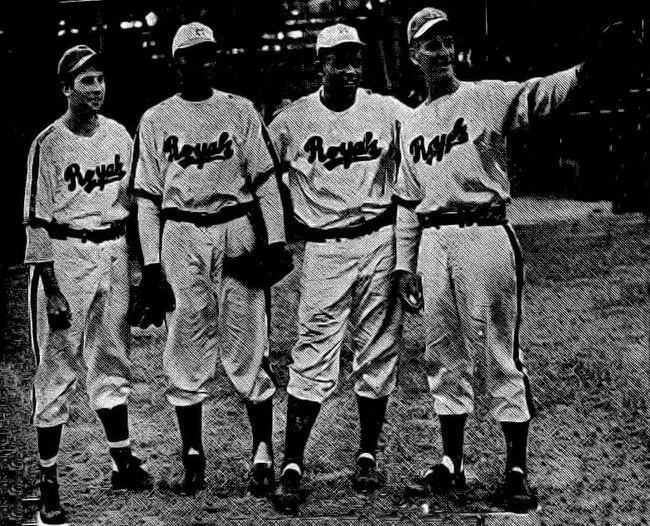 Hank Behrman (far right) with Bob Fontaine, John Wright and Jackie Robinson
at the Montreal Royals spring training camp at Daytona Beach, Florida in 1946.
Behrman – 24 years old – made his major league debut on April 17, 1946, with a 4-2 win against the Boston Braves. He went on to appear in 47 games that year (second most appearances by a pitcher in the National League that year) and compiled an impressive 11-5 record with a 2.93 ERA.
His disdain for curfews on the road and pre-game reporting times at Ebbets Field, however, caused friction with his managers and Dodgers' general manager, Branch Rickey. Stories abound about Behrman's casual approach to his profession. He once showed up at the park in Cincinnati just as the Dodgers were leaving the field following the conclusion of an afternoon game, saying that he thought the game was a night affair. And he once explained a game-long absence to Rickey by admitting that he had sat for several hours in empty Ebbets Field while the Dodgers were playing the Giants at the Polo Grounds across town.
He was even given an off-season job as assistant groundkeeper at Ebbets Field so Rickey could keep an eye on his independent pitcher. But on May 3, 1947, Behrman was part of a five-player trade with the Pittsburgh Pirates for Al Gionfriddo. The move caused quite a stir at the time as Behrman's part of the deal was "conditional," and following ten subpar performances with the Pirates, he was returned to the Dodgers. Behrman finished the 1947 season with 50 appearances (again, second highest in the National League) with an inflated 6.25 ERA and 5-5 won-loss record. He also made five relief appearances in the 1947 World Series against the Yankees.
Behrman began the 1948 season with Montreal in the International League but an 8-2 record led to his recall in June and he made 34 appearances in Brooklyn. He was purchased by the New York Giants at the beginning of 1949 and pitched in 43 games for a 3-3 record and 4.92 ERA. It was to be his last season in the major leagues.
Behrman joined the Oakland Oaks in 1950. He was 17-8 for the Pacific Coast League champions. The following year he was with the Oaks, the San Francisco Seals and Oklahoma City. In 1952, Behrman posted a 7-18 record for Charleston in the American Association and plagued with arm problems he was 6-16 in 1953. He was released by Charleston in the spring of 1954, and took employment as a truck driver for a food concessionaire in New York.
Hank Behrman passed away in New York following a triple heart bypass on January 20, 1987. He is buried at Calverton National Cemetery in Calverton, New York.
Created January 6, 2008.