Area Served: Atlantic and Mediterranean Theaters of Operations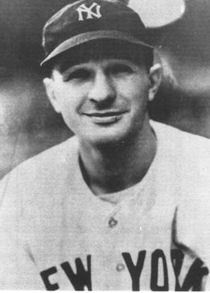 Joseph S "Joe" Beggs was born on November 4, 1910 in Rankin, Pennsylvania. He starred in football, baseball, and track at Aliquippa High School, and was a football and track star at Geneva College, winning the state javelin title before graduating in 1933. He pitched for Washington of the Penn State League in 1934 and was with Akron of the Mid-Atlantic League in 1935.
Beggs was 22-9 with Norfolk of the Piedmont League in 1936 and followed that with a was 21-4 mark while guiding Newark of the International League to the Junior World Series. He joined the Yankees for the start of the 1938 season and was 3-2 in 14 outings for the American League club before returning to Newark.
After posting a 12-10 record with Newark in 1939, Beggs was traded to the Cincinnati Reds for Lee Grissom. Joining the Reds in 1940, Beggs was 12-3 as a reliever – leading the league with seven saves - and pitched in the World Series against the Tigers. He remained Cincinnati's top reliever until entering service with the Navy on April 26, 1944.
Lieutenant Junior-Grade Beggs was stationed at Fort Schuyler, New York and then Brooklyn Armed Guard Center before serving as a gunnery officer on merchant ships on Atlantic and Mediterranean convoys for fourteen months.
When the 35-year-old right-hander returned to the Reds in 1946 it was as a starter rather than a reliever, and he was 12-10 with a 2.82 ERA. A slow start in 1947 saw him traded to the New York Giants where he returned to his relief duties and ended his major league career the following year.
Beggs later managed in the minor leagues. He was inducted in the Beaver County, Pennsylvania, Sports Hall of Fame in 1979.
Joe Beggs passed away on July 19, 1983 in Indianapolis, Indiana.