Johnny Beazley
Date and Place of Birth: May 25, 1918 Nashville, TN
Date and Place of Death: April 21, 1990 Nashville, TN
Baseball Experience: Major League
Position: Pitcher
Rank: First Lieutenant
Military Unit: USAAF
Area Served: United States
Major League Stats: Johnny Beazley on Baseball-Almanac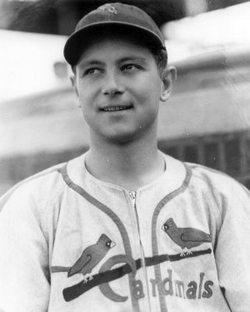 Johnny Beazley, in 1942, won 21 games as a rookie for the St Louis Cardinals and added two more victories in the team's World Series win over the New York Yankees. Possessed with skills that made even the best of scouts' mouths water, he was expected to be great for years to come. However, Beazley enlisted in the U.S. Army Air Corps during World War II on November 3, 1942 and was commissioned a second lieutenant on March 3, 1943. He was sent to pitch for an Army team and a year later Beazley, overtaxed by the Army, felt pain in his arm. Ordered by his commanding officer to pitch through the pain, Beazley did permanent damage and was never the same again. He was released from the Army on March 17, 1946 but won only nine games for the rest of his career. After leaving baseball, Beazley was a beer distributor. He died of cancer at age 71.
Many thanks to Ron Henry for submitting this biography.
Created August 12, 2014 Updated January 11, 2015
Copyright © 2015 Gary Bedingfield (Baseball in Wartime). All Rights Reserved.