Date and Place of Birth: October 16, 1921 San Antonio, Texas
Date and Place of Death: July 14, 2013 Baton Rouge, Louisiana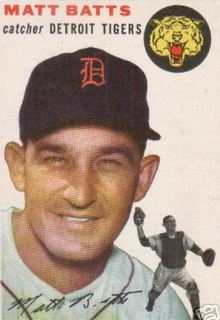 Matthew D. "Matt" Batts was born in San Antonio, Texas on October 16, 1921. He was a football and baseball star at Vocational High School in San Antonio, and later attended Baylor University.
Batts signed with the Boston Red Sox in 1942 and played at Canton in the Middle-Atlantic League where he hit .294 with 10 home runs and 82 RBIs.
Batts entered military service with the Army Air Force in December 1942 and served at Randolph Field in Texas. The young catcher's regular starter at Randolph Field was Dave "Boo" Ferriss.
"I recall the time Randolph Field was playing the Cadet Center team of San Antonio," Ferriss told The Sporting News on September 24, 1947. "On that club were Howie Pollet and Enos Slaughter of the Cardinals … Matt hit two of the longest home runs off Pollet I've ever seen; I don't think they've found the balls yet.
"He also put on a throwing exhibition with Slaughter. And has Batts got an arm! Dear, dear! Some of the brass hats down there were seriously thinking of putting him in the heavy artillery and doin' away with some of those long-range guns. Enos is a good thrower, but Matt out threw him."
Batts was discharged in December 1945 and joined Lynn in the New England League in 1946. He had a sensational season hitting .337 with 12 home runs and 86 RBIs, which earned him promotion to Scranton of the Eastern League for 1947. He continued to climb the ladder that year and performed well enough with Toronto in the International League to be given a late-season call-up to the Red Sox. Batts made his major league debut on September 10, 1947 and played 10 games, collecting eight hits in 16 at-bats for an impressive .500 average.
Batts remained in the major leagues until 1956, joining the Browns in 1951, the Tigers in 1952, the White Sox in 1954 and the Reds in 1955. His best season was with the Tigers in 1953, when he played 116 games, batted .278 and had 43 RBIs.
After baseball, Batts ran a successful printing company in Baton Rouge, Louisiana. He passed away in Baton Rouge, Louisian on July 14, 2013, aged 91.
Created December 14, 2007. Updated July 29, 2013