George Bamberger
Date and Place of Birth: August 1, 1925 Staten Island, New York
Died: April 4, 2004 North Redington Beach, Florida
Baseball Experience: Major League
Position: Pitcher
Rank: Unknown
Military Unit: US Army
Area Served: European and Mediterranean Theaters of Operation
Major League Stats: George Bamberger on Baseball-Almanac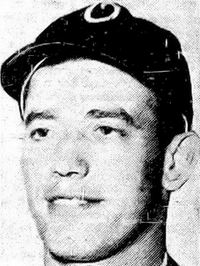 George I Bamberger was born on August 1, 1925 at
Staten Island
,
New York
, and attended
McKee
Vocational
High School
on
Staten Island
.
He entered military service on February 22, 1943 and served with the Army in Europe and the Mediterranean Theaters.
Bamberger returned home in 1945 and signed with the New York Giants, beginning his pro career in 1946 with Erie in the Middle-Atlantic League. He lost his first start but then won nine in a row for a 13-3 won-loss tally and set an all-time Middle-Atlantic League record with a 1.35 ERA.
He was with Manchester (New England League) in 1947 and Jersey City of the International League in 1948 and 1949. The 6-foot right-hander was with Oakland in 1950 where his 16-13 record earned him a spring training trial with the Giants for 1951.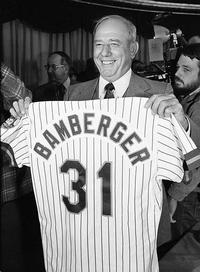 Bamberger made his major league debut for the Giants against the Boston Braves on April 19, and made one other relief appearance before joining Ottawa of the International League for the remainder of the year. On June 17, Bamberger hurled a 1-0 no-hitter for Ottawa against Toronto.
Bamberger was back with the Giants in 1952, making five relief appearances before being traded to Oakland in June. He was 14-6 with the West Coast club and remained in the Pacific League – apart from a three-game stint with the American League Orioles in 1959 – until retiring after the 1963 season.
Bamberger was a pitching coach with the Orioles from 1968 to 1977 and managed the Milwaukee Brewers in 1978 and 1979. He came out of retirement to manage the New York Mets in 1982 and part of 1983, returning to the Brewers in 1985 and 1986.
George Bamberger succumbed to cancer on April 4, 2004 in North Redington Beach, Florida. ''He was the best pitching coach I ever saw,'' said Frank Cashen, the former general manager of the Orioles and the Mets, shortly after Bamberger's death.
George Bamberger is buried at Garden Sanctuary in Seminole, Florida
.
Created January 3, 2008.
Copyright © 2015 Gary Bedingfield (Baseball in Wartime). All Rights Reserved.