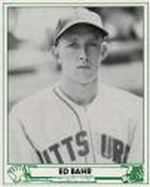 Edson G "Ed" Bahr was born on October 16, 1919 in Rouleau, Saskatchewan, Canada. Bahr grew up in Seattle, Washington, where his father was a clothing salesman and former sandlot ball player.
In 1939, the 19 year-old right-hander was playing in the New York Yankees' farm system with the El Paso Texans of the Arizona-Texas League.
The following season he advanced to Binghamton in the Eastern League, but military service followed and Bahr joined the Navy.
In 1945, he received a medical discharge because of an injured back and believed that his playing days were behind him. He planned to take a job as an assistant foreman in an aircraft plant but it was his father who persuaded him to play again. "He believed in me more than I believed in myself," Bahr told The Sporting News on April 11, 1946.
Bahr rejoined the Yankees' organization and was assigned to the Kansas City Blues of the American Association for 1945. In his first start, on May 3, he beat Milwaukee 3-2 in 11 innings. Bahr finished the year 12-9 for the seventh-placed Blues, and showed enough promise for the Pittsburgh Pirates to purchase him in August.
Bahr faired well in spring training and at 26 was with the Pirates for the start of the 1946 season. He made his major league debut on May 1 against the Phillies and pitched 27 games during the course of the season. Used both as a starter and reliever, Bahr was 8-6 and had an excellent 2.63 ERA.
Bahr was back with the Pirates for 1947 but was not as effective as in his rookie year. He appeared in 19 games and was 3-5 with a 4.59 ERA.
At spring training with the Pirates in 1948, Bahr failed to impress and was sent to Indianapolis in the American Association. He was 10-6 with the Indians.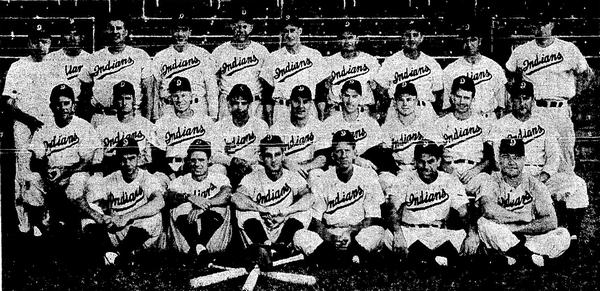 The 1948 Indianapolis Indians (Ed Bahr is back row, sixth from left)
In May 1949, Bahr was traded to the Brooklyn Dodgers and assigned to the St Paul Saints in the American Association. He spent the winter with Almendares in the Cuban Winter League and stayed with St Paul for 1950 and 1951.
Ed Bahr passed away in Fall City, Washington on April 6, 2007. He was 87 years old.
Created June 28, 2007.
Copyright © 2015 Gary Bedingfield (Baseball in Wartime). All Rights Reserved.