Dick Aylward
Date and Place of Birth: June 4, 1925 Baltimore, Maryland
Died: June 11, 1983 Spring Valley, California
Baseball Experience: Major League
Position: Catcher
Rank: Private First Class
Military Unit: US Army
Area Served: European Theater of Operations
Major League Stats: Dick Aylward on Baseball-Almanac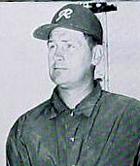 Richard J "Dick" Aylward was born on June 4, 1925 in Baltimore, Maryland. He grew up in Cambridge, Massachusetts, where he was an all-round athlete at Cambridge Latin School and was signed by the Chicago Cubs in 1943.
Aylward played for the Lockport Cubs in the PONY League his rookie year and entered military service on October 4, 1943. Entering service in Boston, Massachusetts, he soon found himself a private first class with the infantry in Europe.
While advancing through a ruined German town, a bullet creased his skull. "I went down like I was hit by a baseball," he told The Sporting News on March 11, 1953. "Spent four months in the hospital before going back into the line. It was no good. I had five campaign ribbons, but now I had nerves."
Aylward spent a further six months at a hospital in the United States before returning to the Cubs' organization in 1946. He joined Nashville in the Southern Association for spring training and played that year for Quebec in the Canadian-American League where he batted .263 with 55 RBIs. Aylward earned promotion to Tulsa in the Texas League for 1947, but the young catcher struggled at the plate and was sent to Des Moines in the Western League where his poor batting form continued and he ended the year with a .186 average.
In 1948 he joined Springfield in the New England League, was back with Des Moines in 1949, and spent the next three years – 1950 to 1952 – with the Dallas Eagles in the Texas League. Aylward continued to have trouble at the plate (he batted just .198 in 1951) and seriously considered quitting the game. He now had a wife and child and contemplated returning home to Cambridge, Massachusetts. However, a .285 batting average in 1952 (a jump of 87 points) gave him hope.
He was purchased by the Cleveland Indians and invited to spring training at Daytona Beach, Florida in 1953. The 27-year-old grabbed the opportunity with both hands. He had a grapefruit league batting average of .390 and made the team as their third-string catcher.
Aylward made his major league debut on May 1, 1953 against the Boston Red Sox. He would appear in a further three games before being sent to Minneapolis in the American Association. He later played for San Diego and Seattle in the Pacific Coast League, ending his professional career with Nashville in the Southern Association in 1958.
Dick Aylward passed away on June 11, 1983 in Spring Valley, California. He was 58.
Thanks to Bob Stephenson for the photo.
Created January 3, 2008.
Copyright © 2015 Gary Bedingfield (Baseball in Wartime). All Rights Reserved.