Tex Aulds
Date and Place of Birth: December 28, 1920 Farmerville, Louisiana
Died: October 13, 1999 Hondo, Texas
Baseball Experience: Major League
Position: Catcher
Rank: Sergeant
Military Unit: USAAF
Area Served: United States
Major League Stats: Tex Aulds on Baseball-Almanac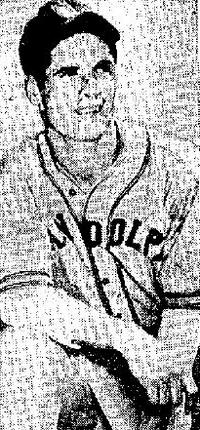 Leycester D "Tex" Aulds was born on December 28, 1920 in Farmerville, Louisiana. Known as Leslie or Tex, Aulds grew up in Corpus Christi, Texas and was an outstanding local athlete. Following high school graduation he was signed by Red Sox scout Hank Severeid and assigned to the Tucson Cowboys of the Arizona-Texas League. However, he was released shortly afterwards.
On September 14, 1942, he entered military service with the Army Air Force and was assigned to Randolph Field, Texas. Aulds starred on both the baseball and football teams at Randolph. As a halfback with the Ramblers he helped the team to the 1944 Cotton Bowl, where he scored a touchdown against the University of Texas in the 7-7 tie.
Playing the outfield and behind the plate for the Ramblers he paced the team to the 1944 Service Baseball League championships where they were beaten by the San Antonio Aviation Cadet Center. In 1945, Aulds exploded, batting over .300 and leading the team in RBIs and stolen bases.
With the Ramblers running away with the 1945 league title, Aulds and teammates Marty Errante and Elbert Young were assigned to Camp Pinedale in Fresno, California in August 1945. Aulds continued to dominate with the Pinedale Interceptors and drew much attention from major league scouts.
Discharged late in 1945, Aulds was again signed by Red Sox scout Hank Severeid in March 1946. He was assigned to the Scranton Red Sox of the Eastern League where he was an all-star with the league champions.
Aulds opened the 1947 with the Louisville Colonels in the American Association but was spiked in the second game of the season. The injury required 27 stitches and he sat out the next few weeks. Then, on May 21, the Red Sox released third-string catcher Frankie Hayes and purchased Aulds despite his lack of playing at that point. He made his major league debut on May 25 and played just four games, getting one hit in four at-bats, before being sent to the New Orleans Pelicans of the Southern Association in July.
It was to be his only major league appearance. He was back with Louisville in 1948, batting .234 in 105 games. In 1949, Aulds wife became seriously ill giving birth to their daughter, Lindy. The Red Sox met the $2,500 medical bills and both mother and daughter pulled through just fine.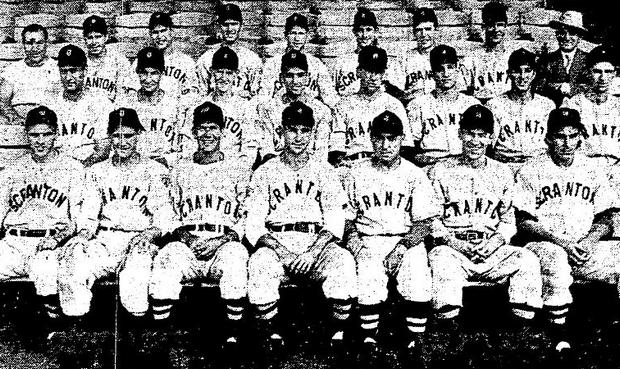 The 1946 Scranton Red Sox. Tex Aulds is back row, second right.
Throughout the 1950s Aulds played semi-pro baseball with Sinton's Plymouth Oilers winning the Texas semi-pro title in 1951.
Tex Aulds spent many years as an umpire in the collegiate Southwest Conference. On October 13, 1999, while watching the first game of the Boston-New York Yankees championship series on TV, Aulds suffered a fatal heart attack. He was 78 years old.
"He always seemed bigger than life to me and will always be my hero," says his daughter, Cindy Gates. "He was a great dad and it was his influence that led me into the athletic field as a player and then a coach. He also had a great influence on his grandchildren. His oldest grandson played for the Alexandria Aces for several years – Ryan Rothe, and another grandson is an outstanding golfer which was another love of my fathers."
In January 2007 the Rambler Fitness Center was opened at Randolph Air Force Base. It was named after the 1944 football team.
Thanks to Cindy Gates for help with her father's biography. Tex Aulds' grandson, Reagan Rothe, will soon be publishing a novel, Dreams and Baseball, a story told from his experiences with a family rich in baseball. For further information visit www.blackrosewriting.com
Created August 20, 2007. Updated April 13, 2008.
Copyright © 2015 Gary Bedingfield (Baseball in Wartime). All Rights Reserved.