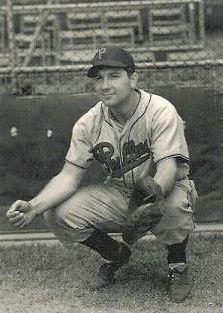 William F "Bill" Atwood was born in Rome, Georgia on September 25, 1911. He graduated from Hardin-Simmons University in Abilene, Texas in 1931 and signed with Dallas of the Texas League.
Atwood played with Augusta of the Palmetto League in 1931, and joined Baton Rouge of the Cotton State League in 1932. In 1933, he was with Birmingham of the Southern Association and moved to Johnstown of the Middle-Atlantic League in 1935 where he batted .355 and finished the year with Baltimore of the International League. The Orioles sold the 24-year-old catcher to the Philadelphia Phillies for 1936 and he made his major league debut on the second day of the season (April 15) against Boston. As a backup to Earl Grace he played 71 games and hit .302 with 29 RBIs.
The following year he played 87 games and followed with a career-high 102 games in 1938 although his average dropped to .196. Atwood found himself with Jersey City of the International League in 1939 but was back with the Phillies for 78 games in 1940.
Back with Jersey City in 1941, Atwood was signed by Hollywood of the Pacific Coast League in December of that year and batted .253 in 106 games in 1942. Following the season, on October 9, 1942, Atwood enlisted in the Army Air Force.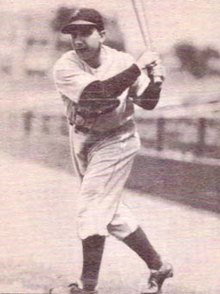 With 1,400 hours of flying time already under his belt as a civilian pilot, Atwood initially attended the Central Instructors' School of Aviation and served as an instructor at Kelly Field and Randolph Field in Texas. He received his flight officer warrant and Army service pilots wings at the graduation exercises of the 20th Ferrying Group, Air Transport Command at the Municipal Airport, Nashville, Tennessee in July 1944, and became a C-46 flight officer stationed at Sookertang, India, where he flew "The Hump" with Ferry Command. The Hump was a high altitude military aerial supply route between the Assam Valley in northeastern India, across northern Burma, to Yunnan province in southwestern China. This operation was the first sustained, long range, 24-hour around the clock, all weather, military aerial supply line in history.
Captain Atwood was discharged from service at the end of 1945 and returned to the Hollywood Stars in 1946, but after batting just .167 in 16 games the 34-year-old became team's third base coach. In 1947, he became player/manager of the Sherman Twins of the Big State League and was with Ballinger of the Longhorn League in 1948.
After retiring from baseball, Atwood owned Bill Atwood Construction, an oilfield service contractor, in Snyder, Texas. Continuing as a pilot, he flew pipelines and also flew many Snyder residents to hospitals in Dallas and Houston.
Bill Atwood died in an automobile accident on September 14, 1993 in Snyder, Texas. He was 81.
Created April 26, 2008.