Joe Astroth
Date and Place of Birth: September 1, 1922 East Alton, Illinois
Date and Place of Death: May 3, 2013 Boca Raton, Florida
Baseball Experience: Major League
Position: Catcher
Rank: Unknown
Military Unit: US Coast Guard
Area Served: United States
Major League Stats: Joe Astroth on Baseball-Almanac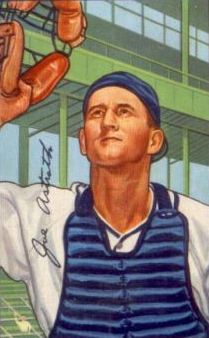 Joseph H "Joe" Astroth was born on September 1, 1922 in East Alton, Illinois. Astroth was an all-round star at Wood River High School in Illinois playing football, basketball and captaining the baseball team. He then attended the University of Illinois, and planned to become a high school coach like his brother before called into military service with the Coast Guard.
The young catcher was stationed at the Coast Guard Academy at New London, Connecticut, and played for Babe Young's Coast Guard Dolphins ball team. He was seen by scout Tom Fleming during this time and recommended to the Philadelphia Athletics. Astroth was also offered a contract to join the Dodgers by George Sisler.
Astroth left military service in the middle of 1945 and immediately signed with the Athletics. Without a single minor league game under his belt, Astroth made his debut on August 13, 1945 and played 10 games before the season was out.
Astroth began the 1946 season with Philadelphia but was sent to Lancaster in the Interstate League for seasoning, where he hit .289. He played with Savannah in 1947 and Memphis in 1948, before returning to the Athletics in for 55 games in 1949.
Astroth remained in the major leagues as a back-up catcher through 1955. He played a high of 104 games in 1952 with the Athletics and batted .249 with 36 RBIs.
After ending his major league playing career with Kansas City in 1956, Astroth played for San Diego in the Pacific Coast League and Buffalo in the International League.
Joe Astroth passed away in Boca Raton, Florida on May 3, 2013. He was 90 years old.
Created December 14, 2007. Updated May 14, 2013
Copyright © 2015 Gary Bedingfield (Baseball in Wartime). All Rights Reserved.