Morrie Arnovich
Date and Place of Birth: November 16, 1910 Superior, Wisconsin
Died: July 20, 1959 Superior, Wisconsin
Baseball Experience: Major League
Position: Outfield
Rank: Staff Sergeant
Military Unit: US Army
Area Served: Pacific Theater of Operations
Major League Stats: Morrie Arnovich on Baseball-Almanac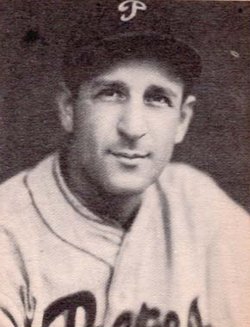 Morrie Arnovich was born on November 16, 1910 in Superior, Wisconsin. He attended Superior State Teachers' College (now University of Wisconsin-Superior) where, in addition to playing baseball, he was a two-time All-Wisconsin basketball star.

Arnovich's professional baseball career began at age 22 with the Superior Blues of the Class D Northern League in 1933. A shortstop that year, he hit .331 with 14 home runs. Returning to Superior in 1934 but moving to the outfield, he hit .374 to take the Northern League batting title and his 21 home runs tied for fifth in the league.

The Philadelphia Phillies purchased his contract in 1935 and assigned him to the Hazleton Mountaineers of the Class A New York-Penn League. He hit .305 that year and the next year hit .327 with 19 home runs and 109 RBIs. Arnovich made his major league debut with the Phillies on September 14, 1936, batting .313 in 13 games.

One of the few Jewish players in major league baseball, Arnovich became the Phillies' regular leftfielder in 1937, hitting .290 in 117 games. In 1938 he hit .275 with 72 RBIs and in 1939 he hit a superb .324 – fifth best in the National League – and was named to the all-star team.

Arnovich got off to a poor start in 1940. He was hitting just .199 when the Phillies traded him to the Reds after 39 games. He hit .284 in 62 games with Cincinnati and made one appearance in the World Series against the Tigers.

In December 1940, Arnovich was purchased from the Reds by the New York Giants. At the time he was 30 years old, unmarried and had draft number 153, which was 212th in the national draft list. Military service could beckon the outfielder at any time between then and June 1941. But in February 1941, he was told by his local draft board in Superior, Wisconsin, that he was classified as "qualified only for limited military service." He had been placed in this deferred class because he was missing a pair of molars.

Arnovich went on to play 85 games with the Giants and batted .280 in a part-time role in leftfield in 1941. In December 1941, he was sold to Indianapolis of the American Association, and because Congress ruled that month that men aged 28 years and older were excused from service, he was looking forward to another season of baseball. But in February 1942, he was instructed to report to his draft board for a further physical examination. On March 5, he was considered fit for service and was inducted into the army at Fort Sheridan, Illinois.

Private Arnovich was stationed with the Army at Fort Lewis, Washington, where he was manager and star player of the Fort Lewis Warriors baseball team, winners of the state semi-pro title. On July 7, 1942, Arnovich was selected for an All-Service team that played against an American League all-star squad at Cleveland's Municipal Stadium. Before 62,059 fans, the American League beat the servicemen, 5-0.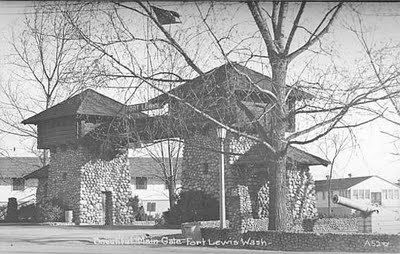 The main entrance gate to Fort Lewis

In October 1942, Arnovich suffered his freak shower accident. The injury required twelve stitches and time at the base hospital. He remained at Fort Lewis until early 1944, managing the baseball team in the summer and coaching the basketball squad that competed in the Puget Sound League in the winter months. He was also promoted to acting staff sergeant with the headquarters regiment. In April 1944, Arnovich was assigned to Camp Beale, California, to organize and coach the baseball team.

Staff Sergeant Arnovich was sent to Oro Bay, New Guinea, in 1945, as an Army postal clerk with the Fifth Replacement Depot. He continued to play baseball with the Fifth and his teammates included Vince Di Biasi, a Yankees' farmhand, Denny Horton, a Tigers' farmhand and Johnny Welaj of the Athletics. The team remained together when the Depot was transferred to the Philippines later in the year.

"It was in Oro Bay," wrote Al Schacht in GI Had Fun, "at the Fifth Replacement Depot, that I awarded the nose championship to Morrie Arnovich, former major-league baseball player with the Phillies and the New York Giants. I put on a stage show at the camp, and there was Morrie, a sergeant. I got him up on the stage with me, dramatically measured his nose with my fingers, and gave him the title. It takes quite a nose to beat me."

Arnovich was discharged in January 1946. He was 35 years old, out of condition and had missed four seasons of baseball. He spent spring training with the New York Giants and appeared in one game before being sent down to the Jersey City Giants on April 29. He was 5 for 25 in 10 games before being released on June 24. In 1947, Arnovich had a strong season in the Three-I League and Western Association, then batted .353 in limited service in the Southeastern League in 1948 before retiring at the age of 37.

He coached basketball for a Catholic high school in Superior after retiring, was active in promoting Little League baseball, scouted for the Phillies, ran a jewelry store and became well-known in the Superior area as a sporting goods dealer.

On July 20, 1959, Morrie Arnovich died of a heart attack at his home. He was just 48 years old and had been scheduled to participate in the Old Timers game at Cincinnati on August 17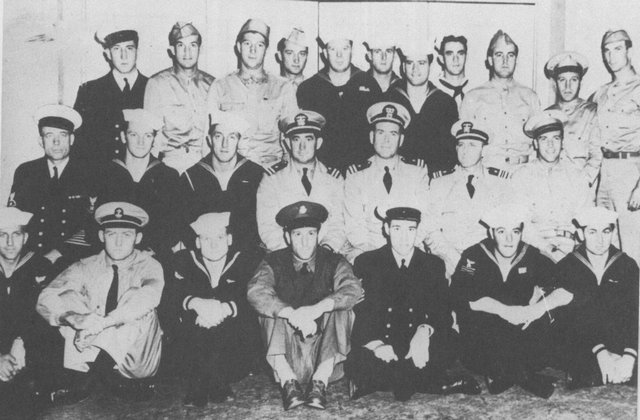 All-Service team that played at Griffith Stadium July 1942. Arnovich is front row, fourth from left.
Created March 12, 2007. Updated March 27, 2010
Copyright © 2015 Gary Bedingfield (Baseball in Wartime). All Rights Reserved.