Rugger Ardizoia
Date and Place of Birth: November 20, 1919 Oleggio, Italy
Baseball Experience: Major League
Position: Pitcher
Rank: Corporal
Military Unit: 7th Army Air Force, USAAF
Area Served: Pacific Theater of War
Major League Stats: Rugger Ardizoia on Baseball-Almanac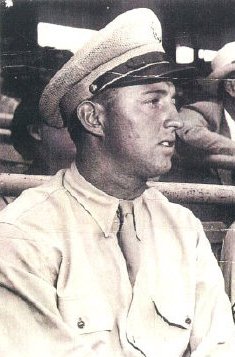 Rinaldo J "Rugger" Ardizoia was born in Oleggio, Italy, and moved to the United States in 1921. He played for Newark (International League) before military service in 1943.
When Ardizoia entered military service he was still an Italian citizen. He was stationed at McClellan Field in California in 1943. While stationed at Hickam Field in Hawaii in 1944, Ardizoia was a tow target operator. He would let targets on cables out of airplanes for anti-aircraft crews to practice firing at.
Ardizoia has fond memories of one game he played on Iwo Jima. "One day we were playing a game when a big named band were playing a concert nearby for the troops. We had over 10,000 troops watching us play while the band had roughly 1,000. The band leader was so disgusted he left."
"After 18 months in the Pacific I was happy to come home to see my wife and my 18 month old son, whom I had never seen," recalls Ardizoia.
Ardizoia was with the Yankees for spring training in 1946 but optioned to Hollywood in the Pacific Coast League at the start of the season. He pitched just one game for the Yankees in 1947, and retired from baseball in 1952. He became a salesman for a national linen service company.
Thanks to Rugger Ardizoia for help with his biography.
Created April 13, 2007.
Copyright © 2015 Gary Bedingfield (Baseball in Wartime). All Rights Reserved.