The St. Louis Browns Historical Society Official Website
a Mileur Media Group website at www.thestlbrowns.com
Ray Mileur, Publisher

George Archie
Date and Place of Birth: April 27, 1914 Nashville, Tennessee
Died: September 20, 2001 Nashville, Tennessee
Baseball Experience: Major League
Position: Third Base/First Base
Rank: Corporal
Military Unit: Troop C, 6th Squadron, 65th Reconnaissance Troop (Mechanized), 65th Infantry Division US Army
Area Served: European Theater of War
Major League Stats: George Archie on Baseball-Almanac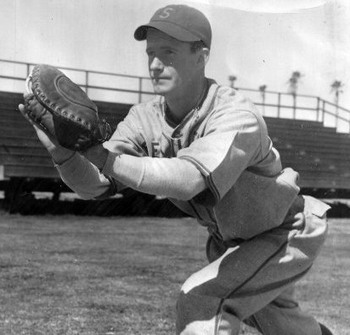 In the fall of 1933, George Archie was signed by the Detroit Tigers. He spent his first season in organized baseball with the Muskogee Tigers in the Western Association the following year. He spent 1935 and 1936 with the Beaumont Exporters in the Texas League. In 1937 he played with the Indianapolis Indians in the American Association, and the next year he was with the Toledo Mud Hens in the same league. Archie was called up by the Tigers at the end of the season and made his major league debut on September 14, 1938, playing just three games before the season was out.
In 1939 he batted .330 with the Seattle Rainiers in the Pacific Coast league, and .324 in 1940 to earn PCL MVP honors and promotion back to the majors with Washington in 1941. Archie hit .269 in 105 games with the Senators. He was traded to the Browns in September, batting .379 in games to finish the year.
Archie was inducted into the Army on December 9, 1941, at Camp Forrest, Tennessee. In 1942 he was at the Jefferson Barracks, Missouri, Reception Center and played baseball there. In 1943 he was at Fort Riley, Kansas, where he also played baseball, and was voted National Baseball Congress MVP in 1943 for helping the Camp Wheeler Spokes to the NBC World Series title. He was at Camp Shelby, Mississippi in 1944. In 1945, Archie went overseas with the 65th Infantry Division and served in France and Germany. After Germany surrendered Archie played first base with the 65th Infantry Division baseball team with Harry Walker, Ken Heintzelman and George Scharein. The 65th were II Corps champions that year.
Archie was honorably discharged from the Army in January 1946 and returned to the Browns. He was 32 years old and had been away for four seasons. "I came back after the war…but I had lost too much, the eyesight and what speed I had," he said in an interview in 1991.
After only four games he was released by the team and joined the Los Angeles Angels in the Pacific Coast League.
Archie continued to play in the minors and was player-manager at Texarkana but tore-up his knee. He took a job at the shipyards in his hometown of Nashville and worked there for 28 years.
Archie was head baseball coach at Vanderbilt University from 1965 to 1967.
"George was a real hero back then," said Archie's long-time friend, Herb Connelly of Seattle. "He gave up his career to go with (General George) Patton into Germany, Austria and France. That was his legacy."
George Archie passed away in Nashville, Tennessee on September 20, 2001. He was 87 years old.
Created April 13, 2007. Updated January 11, 2015.
Copyright © 2015 Gary Bedingfield (Baseball in Wartime). All Rights Reserved.