Jack Aragon
Date and Place of Birth: November 20, 1915 Havana, Cuba
Died: April 4, 1988 Clearwater, Florida
Baseball Experience: Major League
Position: Catcher
Rank: Electrician's Mate Third Class
Military Unit: US Coast Guard
Area Served: United States
Major League Stats: Jack Aragon on Baseball-Almanac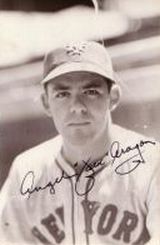 Angel V "Jack" (Reyes) Aragon was born in Havana, Cuba on November 20, 1915. The son of Angel Aragon, who played briefly for the Yankees between 1914 and 1917, the 5-foot 10-inch catcher spent the 1937 season with the Greenwood Giants of the Cotton States League.
In 1938 Aragon was with the Blytheville Giants of the Northeast Arkansas League, leading the league in RBIs. The following season was divided between the Winston-Salem Twins of the Piedmont League, the Knoxville Smokies of the Southern Association, and the Salisbury Giants of the Carolina State League.
In 1940, Aragon was with the Fort Smith Giants in the Western Association. In 1941 he was listed as the batting practice catcher for the New York Giants, and made his major league debut as a pinch runner on August 13, 1941. It was his only appearance of the season and proved to be the only major league appearance of his career.
On September 4, 1942, he joined the Coast Guard in New York City and was based at the Ellis Island, New York, Receiving Station, where he continued to play baseball. He was sent to Electrician's Mates School and on January 15, 1944 was discharged at Ellis Island as an Electrician's Mate 3c. Aragon signed as a free agent with the Minneapolis Millers of the American Association for 1944.
In 1945, Aragon was playing in the Boston Red Sox farm system with the Louisville Colonels of the American Association. In August, he broke his leg in a home plate collision against the Millers. The Louisville fans made a collection for the popular catcher and presented him with 50,000 pennies.
Aragon remained with the Colonels for 1946 and 1947. Following the 1947 season he was sold by the Red Sox organization to the Giants and became player-manager with Fort Smith in the Cotton States League in 1948. The following year he piloted Jacksonville in the South Atlantic League. In 1950 he became manager of the Knoxville Smokies in the Tri-State League, becoming general-manager in 1952. He became general-manager of the Maryville-Alcoa Twins of the Mountain States League in 1953. In April 1954, Aragon quit the Maryville-Alcoa team after a financial disagreement.
He continued to play and manage in the minor leagues through the 1952 season.
Jack Aragon passed away on April 4, 1988 at Clearwater, Florida. He was 72 years old.
Created March 12, 2007.
Copyright © 2015 Gary Bedingfield (Baseball in Wartime). All Rights Reserved.