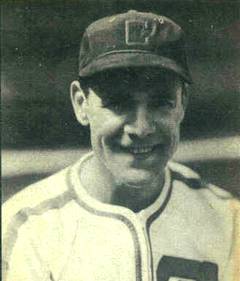 Pete Appleton was born Peter W Jablonowski on May 20, 1904 in Terryville, Connecticut. An accomplished pianist, he attended the University of Michigan, and signed with the Waterbury Brasscos in the Class A Eastern League in 1926. Appleton was 7-6 with a 4.30 ERA his rookie year.
In 1927, he was with Hartford of the same league, and was 9-8 with a 2.99 ERA before being called up by the Cincinnati Reds and making his major league debut on September 14, 1927. He spent the next season with the Reds and made 31 appearances as a relief pitcher, but found himself at Columbus of the American in 1929, posting an 18-12 won-loss record.
Appleton joined the Cleveland Indians in 1930 as a relief pitcher and made 39 appearances. He was traded to the Red Sox in June 1932 but soon found himself with the Yankees organization pitching for Newark of the International League. While with Newark, he legally changed his name to Appleton from Jablonowski (which literally translates to Appleton with Jablon being Polish for apple). Aged 31, Appleton had an outstanding season with Montreal as the International League's best pitcher in 1935, posting a 23-9 won-loss record and 3.17 ERA. He returned to the American League with the Washington Senators in 1936 and enjoyed his best season in the majors with a 14-9 record and 3.53 ERA that was third best in the league.
Appleton remained with the Senators through 1939 when he was traded to the White Sox. He was released in July 1942 and signed by the St Louis Browns, making 14 appearances for an excellent 2.96 ERA. Military service beckoned for the 38-year-old on November 28, 1942. He received a Navy commission at Chapel Hill, North Carolina, where he played baseball for the Navy Pre-Flight team and used his musical talents to entertainment the cadets.
Lieutenant (Junior Grade) Appleton was assigned to Quonsett Naval Air Station, Rhode Island in June 1943, where he coached and pitched for the ball team. On July 12, 1944, Appleton demonstrated his relief pitching talents in a close game against Yale. With score at 5 to 2 in favor of Quonsett NAS, Yale had the bases loaded, one run in and nobody out, when Appleton came in and retired the next three batters to preserve the win
.
Appleton was discharged from service on July 3, 1945. Aged 41, he made two relief appearances for the Browns that summer and was hit hard. They traded him to the Senators, who he had played for in the late 1930s, and he made six respectable appearances but was released the following spring.
Having pitched 341 games over 14 seasons his major league career had come to an end, but Appleton continued to pitch in the minors until 1951. He later scouted for the Washington Senators and Minnesota Twins from 1954 until he passed away at St Francis Hospital in Trenton, New Jersey, on January 18, 1974. He is buried at St. Gertrude Cemetery, Colonia, New Jersey.
Created March 5, 2008.