Date and Place of Birth: January 11, 1918 Jeffersonville, Indiana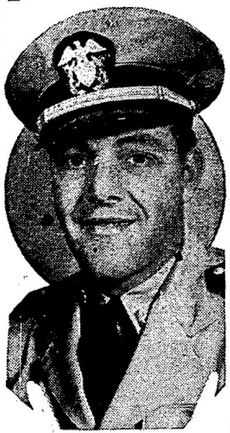 Ernest H "Ernie" Andres was born on January 11, 1918 in Jeffersonville, Indiana. Andres was an All-America basketball star at Indiana University and captained both the basketball and baseball teams.
The young third baseman signed with the Boston Red Sox in 1939 and was assigned to the Louisville Colonels in the American Association. He batted .298 his rookie season, .276 in 1940 and .289 with 100 RBIs and 15 home runs in 1941. Furthermore, he played professional basketball during the 1939-1940 season with the NBAs' Indianapolis Kautskys.
Andres looked to be a certainty to join the Red Sox, but his career was put on hold when military service beckoned in 1942. He was based at Great Lakes Naval Training Station in 1942, where he greatly impressed his manager Mickey Cochrane. Cochrane said Andres should the termed 'The Rookie of the Year' for his performance during the season. "Andres is a great prospect," Cochrane said. "I don't know of a man I'd rather have in there at third base. And that includes the major leaguers, too."
In July 1942, Andres was selected for the Service All-Stars team to play against the American League All-Stars. He was the only serviceman to get two hits in 5-0 defeat.
Andres left Great Lakes at the end of the baseball season for a five-month tour of duty aboard a sub-chaser in the Aleutians. Upon his return, he was assigned as the athletic Officer at the Miami Navy Training Center in Florida, and played for the Sub Chasers team who finished second in the Dade County Victory League.
He moved to Shoemaker Naval Receiving Barracks in California in 1945, where he batted over .400 for the ball team in the 12th Naval District Tournament.
Lieutenant Andres was discharged from service at the beginning of 1946. He joined the Red Sox and made his major league debut on opening day April 16, 1946 against the Washington Senators. Andres played 15 games for Boston but the hits didn't come easily. He was 4-for-41 (.098) when the Red Sox sent the 28-year-old back to the minor leagues in May.
Andres soon found his batting eye playing for the Minneapolis Millers in the American Association and finished the season with a .287 average. In 1947, he hit .266 with 13 home runs and 84 RBIs for the Millers, and was still playing pro basketball during the off-season.
But, Andres quit professional baseball after the 1947 season and accepted a position as head baseball coach with Indiana University, where he remained until 1973.
Andres was inducted in the Indiana Basketball Hall of Fame in 1975 and the Indiana Baseball Hall of Fame in 1999. He passed away at his home in Bradenton, Florida on September 18, 2008.
Created December 14, 2007. Updated September 28, 2008.