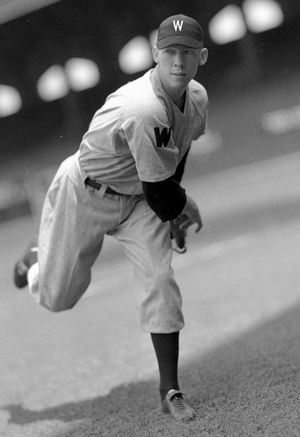 Arnold R. "Red" Anderson was born on June 19, 1912, in Lawton, Iowa. He signed with the Sioux Falls Canaries of the Class D Nebraska State League in 1933, and had a win and two losses in three appearances. He saw limited service with the Canaries in 1934, was out of organized baseball in 1935, but returned to the Canaries in 1936, making 23 appearances for a 9-7 record. The following season he was 8-0 with a 2.97 ERA and earned a September call-up to the Washington Senators, making his major league debut on September 19, 1937. In a less-than-memorable start against the Chicago White Sox, Anderson lasted less than four innings, giving up seven earned runs.
The 6-foot-3 right-hander was 12-8 with the Charlotte Hornets of the Class B Piedmont League in 1938, and 12-15 with the Springfield Nationals of the Class A Eastern League in 1939. He pitched two games for the Senators in 1940, and joined the team full-time in 1941, hurling 32 games (mostly in relief) for a 4-6 record and 4.18 ERA.
Anderson started the 1942 season with the Chattanooga Lookouts of the Class A1 Southern Association, and finished the summer playing semi-pro baseball with his hometown Sioux City Legion Redbirds, before joining the Navy at Des Moines, Iowa, on October 10. He served on a destroyer in the Pacific before being stationed at Pearl Harbor Submarine Base in Hawaii. Anderson regularly played service baseball and was with the Navy team in the 1944 Army-Navy World Series. He was discharged at Lido Beach, New York, on November 17, 1945, as a Specialist Second Class.
Encuentra el mejor apuestas de futbol Argentina
Anderson, 33, found himself back with the Sioux Falls Canaries (formerly a Nebraska State League team but a Class C Northern League team in 1946) and finished the season with the Aberdeen Pheasants of the same league before retiring from the professional game. During the late 1940s and early 1950s, he managed and pitched for the semi-pro Kingsley Cubs in the Plymouth County League, Iowa.
Red Anderson, who was a foreman for the Concrete Pipe Machinery Company, passed away after a 6-month illness on August 7, 1972, aged 60, and rests at Memorial Park Cemetery in Sioux City, Iowa.
Thanks to Chris Woodman at the Pre-War Minor League Baseball Player Database for information on Red's early minor league career.
Created May 28, 2008. Updated December 13, 2016.