Andy Anderson
Date and Place of Birth: November 13, 1922 Bremerton, Washington
Died: July 18, 1982 Seattle, Washington
Baseball Experience: Major League
Position: Infield
Rank: Private First Class
Military Unit: 423rd Infantry Regiment, 106th Infantry Division US Army
Area Served: European Theater of Operations
Major League Stats: Andy Anderson on Baseball-Almanac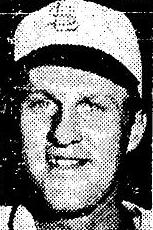 Andy H Anderson was born on November 13, 1922 in Bremerton, Washington. He graduated from Silverdale High School in 1940 and was signed by Jack Fournier for the St. Louis Browns. In 1941 he played for the Paragould Broncos in the Class D Northeast Arkansas League and in 1942 was with the Springfield Browns in the Class B Three-I League.
Anderson entered service with the Army on November 28, 1942. He played baseball in Washington before being deployed overseas. Private First Class Anderson served in Europe with the 423rd Infantry Regiment of the 106th Infantry Division. During the early days of the Battle of the Bulge, the 423rd Infantry Regiment, along with the 422nd, was encircled by enemy forces and cut off from the remainder of the 106th Infantry Division in the vicinity of Schonberg, Belgium. The two Regiments (6,000 troops) surrendered to the Germans on December 19, 1944, in one of the largest mass surrenders in American military history. Suffering a debilitating case of frostbite he was held at Stalag 9B in Bad Orb Hessen-Nassau, Germany. When Anderson was liberated on May 4, 1945, his weight had dropped from 185 pounds to 125 pounds. He was sent to Santa Barbara, California to recuperate and gain his strength.
Jack Fournier, the scout who had signed the youngster in 1940, went to visit him at Santa Barbara. "I couldn't believe my eyes," he told The Sporting News on July 21, 1948. "He didn't even resemble the fine young athlete we had sent away to the army. I told Andy he could have his job back with the Browns' organization whenever he was ready to resume his baseball career."
Anderson progress was slow but steady and he joined the San Antonio Missions of the Texas League during the summer of 1946 and batted .246. The following season he hit .250 with the Missions. He joined the St Louis Browns at their spring training camp in 1948 and manager Zack Taylor decided to keep the hustling infielder for insurance. Anderson made his major league debut on May 10, and appeared in 51 games for the Browns and batted .276. He was back with the Browns in 1949 and batted .125 in 71 games. Anderson returned to the Missions in 1950 and continued to play in the minors until 1953.
Andy Anderson passed away on July 18, 1982 in Seattle, Washington. He was 59 years old.
Created July 19, 2007. Updated January 11, 2015
Copyright © 2015 Gary Bedingfield (Baseball in Wartime). All Rights Reserved.