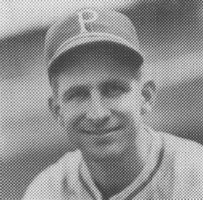 Alfred W "Alf" Anderson was born in Gainesville, Georgia on
January 28, 1914,
but grew up in Decatur. He was an all-state selection in baseball, football and basketball at Decatur High School, and attended Darlington Prep School in Rome, Georgia for two years before attending the University of Georgia where he captained the baseball team and played halfback on the football squad.
Anderson signed a professional baseball contract in 1938 and hit .331 for the New Bern Bears in the Coastal Plain League. He hit .368 for the Savannah Indians of the South Atlantic League the following year, and joined the Atlanta Crackers of the Southern Association in 1940, where he hit .352, third best in the league.
At the time he was not only one of the best hitters in minor league baseball but was also one of the fastest base runners. Only his defensive work let him down – Anderson committed 67 errors as a shortstop in 1940.
Anderson was traded to the Pirates at the end of the 1940 season and, unusually for the time, returned unsigned the first six contracts Pittsburgh offered him. "It wasn't what I thought I ought to get," he explained.
In 1941, manager Frankie Frisch declared Anderson his starting shortstop over Arky Vaughan and also made him his leadoff hitter. Frisch said at the time, "I put this kid Anderson at shortstop and he's going great guns."
Alf Anderson (left) with Lou Klein in 1944
The youngster, however, failed to hit major league pitching and batted just .215 in 70 games while Vaughan reassumed the starting position. In 1942, Anderson raised his batting average dramatically to .271 in 54 games as a back-up to Pete Coscarart who came over to Pittsburgh in the Arky Vaughan trade with Brooklyn in December 1941.
At the conclusion of the 1942 season, he was teaching in the same high school he had attended in Decatur, Georgia, but quit the teaching job for a job as a ship fitter at the Southeastern Ship Yards in Savannah, Georgia. He was married and had two brothers in the service and was classified 3A in the draft. He retired from baseball to remain in his defense job for the 1943 season. However on April 22, 1944, Anderson joined the Navy in Jacksonville, Florida, and was stationed at the Jacksonville Naval Air Station where he played baseball for the next two seasons. Ted Williams was a teammate for the 1945 season.
On January 5, 1946, Specialist Second Class Anderson was discharged from the Navy and rejoined the Pirates. He made just two pinch hitting appearances before being sent to the Hollywood Stars in the Pacific Coast League where fans voted him their favorite player. Anderson was recalled by the Pirates in September 1946 but did not make another appearance, and at 32 he retired from baseball.
After baseball Anderson worked for Jefferson Mills in Jefferson, Georgia. He was appointed athletic director and coached their baseball team. He later ran various small businesses in Albany, Georgia
Anderson was inducted in the Georgia Sports Hall of Fame in 1998. His father, Frank, who coached baseball at Oglethorpe University in Atlanta is also in the Atlanta Sports Hall of Fame.
Alf Anderson passed away in Albany, Georgia on June 23, 1985 from complications brought on by a stroke. He was 71 years old.
Created July 18, 2007.
Copyright © 2015 Gary Bedingfield (Baseball in Wartime). All Rights Reserved.