Wayne Ambler
Date and Place of Birth: November 8, 1915 Abington, Pennsylvania
Died: January 3, 1998 Ponte Vedra Beach, Florida
Baseball Experience: Major League
Position: Shortstop
Rank: Lieutenant (jg)
Military Unit: US Navy
Area Served: European and Pacific Theaters of War
Major League Stats: Wayne Ambler on Baseball-Almanac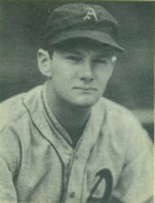 Ambler was a weak-hitting infielder with exceptional defensive skills. He joined the Athletics straight after graduating from Duke University in mid-1937, where he earned a Bachelor's Degree in Business Administration.
Between 1937 and 1939, Ambler played 271 games for the Athletics at shortstop and second base. In 1938, his best season, he hit .234 with 38 RBIs in 120 games.
Following the 1939 season he was sold to the Giants and optioned to Jersey City of the International League. At the end of the 1940 season, Ambler was traded to Cincinnati where he hoped to get the starting job at shortstop. But Eddie Joost got the job and Ambler was sent to Indianapolis in the American Association. Military service ended his baseball career after the 1941 season. "I joined the Navy right after Pearl Harbor," he explained.
Ambler, who lost four years to the military and never returned to professional baseball He was a Gunnery Officer on liberty ships. He was at Normandy and was in Antwerp during the Battle of the Bulge.
"I was a gunnery officer on a merchant ship," he later explained. "What they called 'armed guard' service. They put a Navy gunnery officer and 26 Navy gunners on these merchant ships. All we had to do was man the guns and defend the ship. I was in both oceans, but mostly the Atlantic. Look here if you're interested in australian sports betting.
"I got into the cross-channel invasion in 1944, and that was interesting. After the war ended, I went to the Pacific. But Japan surrendered while our ship was lying off the Philippines waiting to go into action.

"I had the chance to play baseball in the Navy when I was at Little Creek, near Norfolk [Virginia] where they had the gunnery officer training school. But I was around 28 and well, I said, 'Let's see what the war is like.'
"I know they had some great Navy teams, and it was probably a mistake not playing."
When asked if the war hurt his career, Ambler replied, "The war did hurt me. Philadelphia were interested in bringing me up again, but the war killed that."
After the war Ambler returned to his hometown of Abington, Pennsylvania, where he worked in the trucking industry for 40 years. Ambler also played semi-pro baseball for ten years, often playing against Negro League teams, and coached Little League baseball, supervising a summer program of up to 200 youths. In 1960, one of his all-stars was 14-year-old Reggie Jackson.
Ambler was inducted in the Duke Sports Hall of Fame in 1989.
Wayne Ambler passed away on January 3, 1998, at Ponte Vedra Beach, Florida. He was 82 years old.
Created April 13, 2007.
Copyright © 2015 Gary Bedingfield (Baseball in Wartime). All Rights Reserved.