Dale Alderson
Date and Place of Birth: March 9, 1918 Belden, Nebraska
Died: February 12, 1982 Garden Grove, California
Baseball Experience: Major League
Position: Pitcher
Rank: Seaman First Class
Military Unit: US Navy
Area Served: United States
Major League Stats: Dale Alderson on Baseball-Almanac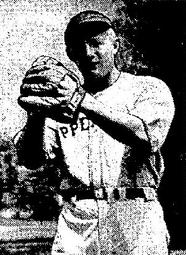 Dale L Alderson was born on March 9, 1918 in Belden, Nebraska. Alderson was a three-sport athlete at Upper Iowa University in Fayette. He distinguished himself on the gridiron with his rifle passes and he fit perfectly into "Doc" Dorman's razzle dazzle football. During his sophomore year Alderson set a new basketball record in the Iowa conference with an average of 17 points per game for the season, and he hit the hoop for 28 points in one game that year for another record. Alderson played shortstop for the Peacocks two years, until he was given the pitching assignment. In his senior year (1942) he led his team with a batting average of .465. Of 12 conference games in which Alderson did the pitching he lost one game to Luther College.
Alderson was signed by the Chicago Cubs following graduation and sent to the Zanesville Cubs of the Class C Middle Atlantic League. He began the 1943 season pitching for the Nashville Volunteers in the Southern Association before being called up by the Chicago Cubs and making his major league debut on September 18. Alderson made four appearances for the Cubs and was 0-1 with a 6.43 ERA.
He remained in Chicago for the beginning of the 1944 season and made 12 primarily relief appearances before optioned back to Nashville in July. Following the Southern Association season, Alderson, who had already been rejected for military service twice because of a kidney ailment, took a pre-induction physical at Camp Forrest on September 29, 1944.
On October 2, 1944, he entered service with the Navy and was sent to the Naval Training Center in San Diego, where he remained until discharged on October 19, 1945.
Alderson rejoined the Cubs in 1946 but was optioned to Nashville. In July he was attacked by three youths at a hotel in Nashville and suffered a hand injury that kept him out of the lineup for more than a week. Despite this, he had a good season with Nashville and was recalled by the Cubs in September, although he did not make an appearance.
Alderson, who had worked as a school teacher during the off-season, quit baseball and became the athletic director at Audubon High School in Iowa. He remained in that position until resigning in June 1949 to study for a master's degree at Drake University in Des Moines.
Alderson continued to play semi-pro baseball in Iowa during the 1950s and featured in the lineup with Creston of the Tall Corn Baseball League in 1951, Cumberland in the Nodaway Valley Independent Baseball League from 1952 to 1954, and the Audubon Cardinals of the Central State League in 1956.
Dale Alderson passed away on February 12, 1982 in Garden Grove, California. He was 63 years old.
Created July 18, 2007.
Copyright © 2015 Gary Bedingfield (Baseball in Wartime). All Rights Reserved.