Jack Albright
Date and Place of Birth: June 30, 1921 St Petersburg, Florida
Died: July 22, 1991 San Diego, California
Baseball Experience: Major League
Position: Shortstop
Rank: Lieutenant
Military Unit: Underwater Demolition Team No 22 US Navy
Area Served: Pacific Theater of Operations
Major League Stats: Jack Albright on Baseball-Almanac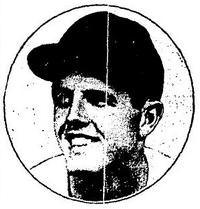 Harold J "Jack" Albright was born on June 30, 1921 in St Petersburg, Florida. Albright was an outstanding baseball at the University of California and was rated the "greatest infielder in Golden Bear history" by The Sporting News in 1943.
Albright signed with the Boston Red Sox on June 2, 1943 and reported to the Louisville Colonels of the American Association. At shortstop, he handled 34 chances flawlessly and batted .400 in his first eight games. "He's as good as any shortstop I've ever seen, and this includes Pesky and Reese," Colonels' manager Bill Burwell told The Sporting News on June 24, 1943. "He has a wonderful arm, can cover ground, is all you would ask for on double plays and can hit. He fields something like Reese and hits something like Pesky."
Albright had been a member of the V-7 Naval Reserve at school in San Francisco since January 1942, and left baseball to enter military service after the 1943 season. He served as a lieutenant on the USS Bebas, a destroyer escort that was named after Gus Bebas, a Northwestern University pitcher who was killed during a training flight near Pearl Harbor in 1942. Albright underwent Underwater Demolition Training at Fort Pierce, Florida, and was part of Underwater Demolition Team No 22 clearing the Japanese harbors after the war was over.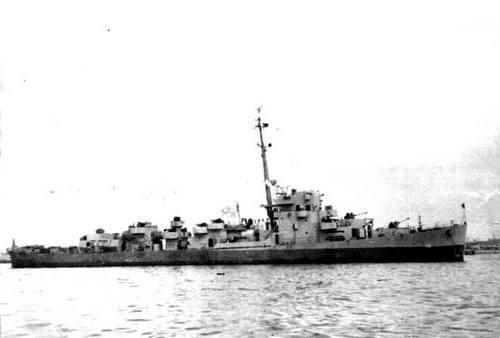 USS Bebas
Lieutenant Albright was discharged from active duty at Bainbridge, Maryland in May 1946 and rejoined the Louisville Colonels after more than two years away from the game. He began the 1947 season with the Colonels but was sold to the Philadelphia Phillies with a view to giving aging shortstop Skeeter Newsome some backup. He made his major league debut on May 19, and played 41 games batting .232 with two home runs before breaking his leg in a game against Cincinnati.
The 1948 season was spent with the Utica Blue Sox, a Phillies' farm team in the Class A Eastern League and the Toronto Maple Leafs of the Class AAA International League. Albright continued playing in the minor leagues for the Seattle Rainiers of the Pacific Coast League through the 1951 season.
Jack Albright passed away on July 22, 1991. He was 69 years old and is buried at Fort Rosecrans National Cemetery in Point Loma, San Diego, California.
Created July 18, 2007.
Copyright © 2015 Gary Bedingfield (Baseball in Wartime). All Rights Reserved.