Ed Albosta
Date and Place of Birth: October 27, 1918 Saginaw, Michigan
Died: January 6, 2003 Saginaw, Michigan
Baseball Experience: Major League
Position: Pitcher
Rank: Unknown
Military Unit: US Army
Area Served: United States
Major League Stats: Ed Albosta on Baseball-Almanac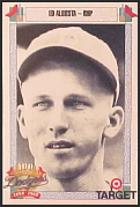 Edward J "Ed" Albosta was born on October 27, 1918 Saginaw, Michigan. The hard-throwing right-hander was signed by Beckley in 1938. Went to Hot Springs in 1939, where he was 10-10, and played for Beaumont at the end of the season.
In January 1940, Albosta found himself a free agent as baseball commissioner Kenesaw Mountain Landis released 91 players from the Tigers' organization. In the opinion of Landis, these players had been kept in "cold storage" on farm teams from Shreveport to Seattle. One team with which Detroit had a secret deal was Hot Springs, which found itself left with only one player after the commissioner's ruling.
Albosta was signed by Montreal and assigned to Dayton in 1940, where he was 9-11. In 1941, he was 15-5 with a 1.73 ERA with Durham. He was obtained by Brooklyn at end of season and made two starts for the Dodgers, losing them both.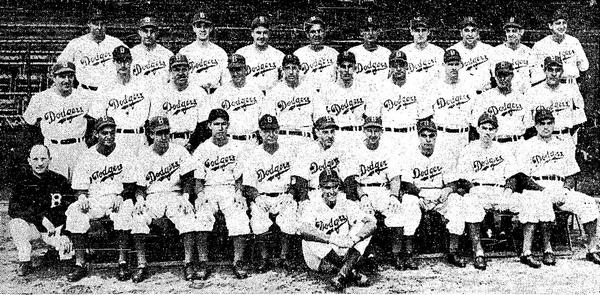 The 1941 Brooklyn Dodgers. Ed Albosta is second row, sixth from left.
The 23 year-old was at Montreal for 1942 where he was 9-7, and he was drafted by the Pittsburgh Pirates at the end of the year.
Albosta entered military service with the Army in January 1943. He received basic training at Camp Claiborne, Louisiana. In 1944, he was at Camp Livingston, Louisiana, where he played for the Camp Livingston Blues. On September 16, 1944, Albosta pitched the Blues to the Eighth Service Command championship, defeating Camp Joseph T Robinson Reception Center, 3-2, and striking out 14.
Albosta remained at Camp Livingston in 1945 where he was teammates with Pete Reiser. He left military service in November 1945 and joined the Pirates.
Albosta spent the entire 1946 season with Pittsburgh and made 17 appearances. He finished with an 0-6 record and 6.13 ERA.
He began the 1947 season with Indianapolis but was sold to Hollywood of the Pacific Coast League mid-season. "Albosta packs the fastest ball in the Coast league," Hollywood manager Jimmy Dykes told The Sporting News on September 24, 1947. "He has a good curve, can pull the string and he's learned how to pitch. He's won six games in a row."
But the call didn't come. He finished the 1947 season with Hollywood and was 11-6 with a 3.47 ERA. He was back with Hollywood in 1948 and pitched for the Toledo Mud Hens in the American Association in 1949, finishing the year with the St Joseph Auscos semi-pro team.
Albosta was 31 when he joined his hometown Saginaw Bears of the Southern League for the 1950 season. Albosta was 10-13 that year and was 19-11 in 1951. It was his last season in professional baseball.
In July 1952 he joined the Minot Mallards of the semi-pro Man-Dak League and helped them win the playoffs. He managed Minot in 1953 and Carman in the same league in 1954.
After baseball, Ed Albosta went to work for Saginaw Steering Gear and retired in 1985. He passed away on January 7, 2003, at Saint Mary's Hospital in Saginaw, Michigan. He was 84 years old.
Created June 21, 2007.
Thanks to Bob Stephenson for the top photo.
Copyright © 2015 Gary Bedingfield (Baseball in Wartime). All Rights Reserved.