The first former major leaguer to join the US Army Air Corps
Bill Akers
Date and Place of Birth: December 25, 1904 Chattanooga, Tennessee
Died: April 13, 1962 Chattanooga, Tennessee
Baseball Experience: Major League
Position: Infield
Rank: Technical Sergeant
Military Unit: US Navy
Area Served: Pacific Theater of Operations
Major League Stats: Bill Akers on Baseball-Almanac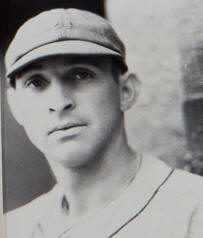 William G "Bill" Akers was born on December 25, 1904 in Chattanooga, Tennessee. He signed with Chattanooga of the Southern Association in 1924 and joined Jonesboro of the Tri-State League the following year.
After batting .309 with Beaumont of the Texas League in 1929, Akers was called up by the Detroit Tigers and played 24 games before the season was over. He was with the Tigers for 85 games in 1930 and batted a respectable .279 but spent most of 1931 with Kansas City of the American Association. He was purchased by the Boston Braves at the end of the season. He was with the Braves for 36 games in 1932 and batted .258.
Akers played for Little Rock of the Southern Association in 1933 and 1934, then retired to join the Arkansas State Troopers as a motorcycle policeman.
In July 1940, Akers became the first former big leaguer to join the US Army Air Corps. He enlisted in the 39th Pursuit Squadron and was stationed at Selfridge Field, Mississippi. During the war he spent 31 months in the Pacific and was awarded the Presidential Citation with two Oak Leaf Clusters and four battle stars. He remained in the service until retiring in 1960 as a technical-sergeant.
Bill Akers passed away on April 13, 1962 in Chattanooga, Tennessee. He is buried in the Chattanooga National Cemetery.
Created May 28, 2008. Updated January 11, 2015
Copyright © 2015 Gary Bedingfield (Baseball in Wartime). All Rights Reserved.