Bobby Adams
Date and Place of Birth: December 14, 1921 Tuolumne, California
Died: February 13, 1997 Gig Harbor, Washington
Baseball Experience: Major League
Position: Infield
Rank: Corporal
Military Unit: USAAF
Area Served: Pacific Theater of Operations
Major League Stats: Bobby Adams on Baseball-Almanac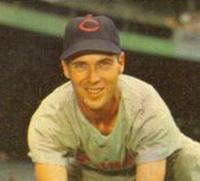 Robert H "Bobby" Adams was born on

December 14, 1921 in Tuolumne, California.

He was signed by the Cincinnati Reds along with his brother Dick and assigned to the Ogden Reds in the Class C Pioneer League in 1939. He remained with Ogden in 1940 and played for the Columbia Reds in the Class B South Atlantic League in 1941. In 1942 he played for the Syracuse Chiefs in the Class AA International League.
At the end of the season he was slated to join the Cincinnati Reds but went in the service on January 22, 1943 and was stationed with his brother at the Santa Ana Army Air Base. Together with Joe DiMaggio, the Adams brothers created a formidable team at Santa Ana in 1943. They had a 20 game winning streak that extended from May 25 to July 4.
Adams remained at Santa Ana until 1945 when he was sent to the South Pacific. As part of a contingent of 94 ballplayers Adams arrived in Hawaii in June 1945. Representing the 58th Wing, along with teammates Enos Slaughter, Joe Gordon, Birdie Tebbetts and Howie Pollet, the ballplayers island-hopped towards Japan following American forces. On Tinian, the Seabees bulldozed out a ballfield on top of a coral reef and made bleacher seats out of bomb crates. Exhibition games were also staged at Saipan, Guam and Iwo Jima with an estimated 180,000 soldiers getting the chance to witness major league baseball players in action.
Santa Ana Army Air Base in 1943. Bobby Adams is front row, fourth left. His brother Dick is back row, sixth left and Joe DiMaggio is front row, second right.
Twenty-seven games were played on the tour which concluded in October and the players returned to the United States in early November.
In 1946 he reported to the Cincinnati Reds and made his major league debut on opening day April 16. Adams played 94 games that season and batted .244. He stayed with Cincinnati until the 1955 season. His best year was 1952 when he batted he batted .283 in 154 games.
Adams later played for the White Sox, Orioles and Cubs, ending his major league career in 1959. He played 1281 games and had a career batting average of .269.
After playing out the end of the 1959 season with the Seattle Rainiers in the Pacific Coast League, Adams served as secretary of the Association of Professional Baseball Players until 1960.
Adams later served as a coach with the Chicago Cubs for five years and became president of the Tacoma Cubs of the Pacific Coast League in 1966. He remained in Tacoma until 1971, when the team moved to Texas, but remained in baseball until retiring in 1981. His son, Mike, was an outfielder with the Twins, Cubs and Athletics during the 1970s.
Bobby Adams passed away on February 13, 1997 in Gig Harbor, Washington. He was 75 years old.
Created July 17, 2007.
Copyright © 2015 Gary Bedingfield (Baseball in Wartime). All Rights Reserved.