Go on, why not sponsor this page for $5.00 and have your own message appear in this space.


Click here for details



Bill Adair
Date and Place of Birth: February 10, 1913 Alabama
Died: June 17, 2002 Bay Minette, Alabama
Baseball Experience: Major League
Position: Manager
Rank: Technical Sergeant
Military Unit: US Army
Area Served: European Theater of Operations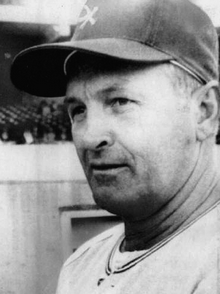 Marion D "Bill" Adair was born on February 10, 1913 in Mobile, Alabama.
He was signed by the Brooklyn Dodgers as a second baseman in 1935 and played for Jackson in the East Dixie League. By 1940 he was with Montgomery in the Southeastern League and batted .329 with 20 home runs and 113 RBIs. He joined Memphis of the Southern Association in 1942 and had an excellent season batting .286 with 86 RBIs.
On March 31, 1943, Adair entered military service with the Army at Fort McClellan, Alabama. He rose to the rank of Technical Sergeant and served with the Army in Europe.
Adair returned to the Memphis Chicks in 1946 and continued to play in the minor leagues until 1956. His best post-war season was with Owensboro of the Kitty League in 1949, when he batted .356 with 23 home runs and 120 RBIs.
Adair later turned to managing in the minors and became a major league coach in the 1960s, with the Milwaukee Braves in 1962 and the Atlanta Braves in 1967. He was third base coach with the Chicago White Sox in 1970, when he took over as manager of the team for 10 games. Adair also coached the Montreal Expos in 1976.
Bill Adair passed away on June 17, 2002 in Bay Minette, Alabama. He was 79 years old.
Created November 19, 2007. Updated January 11, 2015.
Copyright © 2015 Gary Bedingfield (Baseball in Wartime). All Rights Reserved.