Cal Abrams
Date and Place of Birth: March 2, 1924 Philadelphia, Pennsylvania
Died: February 27, 1997 Tamarac, Florida
Baseball Experience: Major League
Position: Outfield
Rank: Unknown
Military Unit: Battery B, 500th Anti-Aircraft Artillery US Army
Area Served: Atlantic and Pacific Theaters of Operations
Major League Stats: Cal Abrams on Baseball-Almanac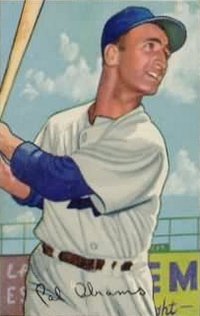 Calvin R "Cal" Abrams was born on March 2, 1924 in Philadelphia, Pennsylvania. He was a star outfielder at Madison High School in Brooklyn, where his longest home run still stands as a record.
In 1942, he was signed out of high school by Brooklyn Dodgers' scout Joe Labate, and assigned to the Olean Oilers of the PONY League. He played 19 games that season and on January 22, 1943 was inducted into the Army in New York City.
Abrams was assigned to Battery B, 500th Anti-Aircraft Artillery and served in Europe and the Pacific with 2 battle stars in the Pacific. He was also awarded the Philippines Liberation Ribbon with one bronze star. He was released from military service on January 17, 1946, at Fort Dix, New Jersey.
Abrams returned to the Dodgers' organization and played for the Danville Dodgers in the Three-I League for the 1946 season. The next two seasons, Abrams was with the Mobile Bears in the Southern Association. On April 20, 1949, he made his major league debut with the Dodgers and played eight games before being sent to the Fort Worth Cats of the Texas League for the rest of the year. He split 1950 between the St Paul Saints of the American Association and the Dodgers.
Abrams remained with the Dodgers until June 1952, when he was traded to the Cincinnati Reds. His best season in the major leagues was with the Pirates in 1953. He played 119 games and batted .286 with a career-high 15 home runs and 43 RBIs. He will be remembered for being thrown out at home by Richie Ashburn in the last game of the 1950 NL season which helped the Phillies clinch the pennant.
He remained in the major leagues into the 1956 season when he was sent to the Miami Marlins in the International League. The next year Abrams retired from play. In all of his minor league seasons his lowest batting average was .331. He played in 567 major league games with the Dodgers, Reds, Pirates, Orioles and White Sox.
He later owned several cocktail lounges on Long Island, then went to work for New York City's Off-Track Betting until retiring in 1984. In June 1996, he was inducted into the B'nai B'rith Jewish American Sports Hall of Fame in Washington, DC.
Cal Abrams suffered a fatal heart attack shortly before his 73rd birthday on February 27, 1997, in Tamarac, Florida. He was buried in his white Dodgers' uniform bearing the number 18.
Created June 21, 2007.
Copyright © 2015 Gary Bedingfield (Baseball in Wartime). All Rights Reserved.