Cliff Aberson
Date and Place of Birth: August 28, 1921 Chicago, Illinois
Died: June 23, 1973 Vallejo, California
Baseball Experience: Major League
Position: Outfield
Rank: Sergeant
Military Unit: Company L, 314th Infantry Regiment, 97th Infantry Division US Army
Area Served: European Theater of Operations
Major League Stats: Cliff Aberson on Baseball-Almanac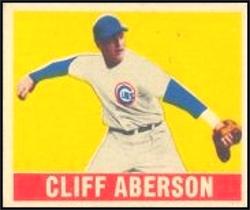 Clifford A "Cliff" Aberson was born on August 28, 1921 in Chicago, Illinois. He was a three sport standout at Senn High School in Chicago, and had a trial with Moline in the Three-I League in 1940. Later that year he attended Philip K Wrigley's baseball school in Chicago and was awarded a contract to play with Janesville in the Wisconsin State League in 1941. Still at Janesville in 1942, Aberson batted .281.
Aberson entered military service with the Army Air Force in 1943 and was stationed at Keesler Field, Mississippi. While playing football at Keesler Field he attracted the attention of Herman Rohrig, ex-Packer and coach of the Keesler Field team. Rohrig recommended Aberson to Packers' coach Curley Lambeau who signed him as soon as he left military service in spring 1946. But before that could happen, Aberson was sent to Europe in 1945 with Company L, 314th Infantry Regiment of the 97th Infantry Division and participated in the Central Europe Campaign. He earned the Combat Infantryman's Badge, Bronze Star Medal and one battle star. He was discharged March 22, 1946 at Camp McCoy, Wisconsin.
Aberson played halfback with the Green Bay Packers in 1946 and appeared in 10 games. But it was his baseball playing that proved more successful. In 1947 he led the Western League with 20 homers and was batting .305 for Des Moines, when he was called up by the Cubs.
Aberson played 47 games for the Cubs and batted .279 with four home runs and 20 RBIs. "I actually prefer to play football," Aberson told The Sporting News on September 24, 1947. "But the future in baseball is much greater, and your playing days should be longer. I didn't hesitate a minute when the opportunity came to give up football for a chance in the majors."
Aberson played for the Los Angeles Angels in the Pacific Coast League in 1948 and was back with the Cubs for 12 games that year and made a further four appearances in 1949 to end his major league career.
In 1950, he played for the Hollywood Stars of the Pacific Coast League, the Mobile Bears of the Southern Association, and the St Paul Saints of the American Association. At the end of the season, he retired from baseball to try out for the Chicago Cardinals of the National Football League.
Cliff Aberson passed away on June 23, 1973 in Vallejo, California. He was 51 years old.
Thanks to Bob Stephenson for the photo.
Created June 21, 2007. Updated January 3, 2015
Copyright © 2015 Gary Bedingfield (Baseball in Wartime). All Rights Reserved.