Go on, why not sponsor this page for $5.00 and have your own message appear in this space.


Click here for details



Date and Place of Birth: July 26, 1918 Emporia, Virginia
Baseball Experience: Amateur
Position: Outfield
Rank: Sergeant
Military Unit: Company M, 116th Infantry Regiment, 29th Infantry Division US Army
Area Served: European Theater of Operations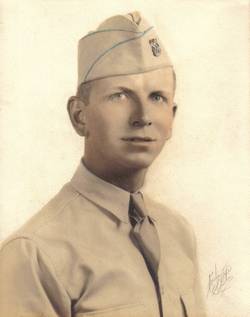 William "Bill" Rowell was born on the family farm in Emporia, VA, on July 26, 1918. The youngest of five sisters and one brother, he was forced to quit school in the 9th grade to work the farm after the death of his father. His brother helped but suffering from polio was unable to take charge as Bill was forced to. Baseball was his love and, as a speedy outfielder, started a long career playing on amateur teams in the area at a young age.
He lied about his age and joined the local National Guard unit when he was 16 years old. He said the allure of $1.00 a week for meetings and $20.00 for two weeks at summer camp was too much to resist. The unit was federalized for one year in February of 1941 and saw training at Ft. Meade, Maryland and the Carolina Maneuvers. Hopes of returning home in February of 1942 were dashed with the declaration of war after Pearl Harbor.
He sailed with the 29th Division to England in October 1942 to begin a rigid training program for almost two years preparing for the invasion of Nazi controlled Europe. In 1944 he joined the regimental baseball team, dubbed the Plymouth "Yankees". Although a dark horse team they were invited to the ETO World Series in London where they finished a perfect 27 - 0 season by winning the championship. He was unable to contribute to the team's tournament effort due to a sprained ankle, but had a good season to that point.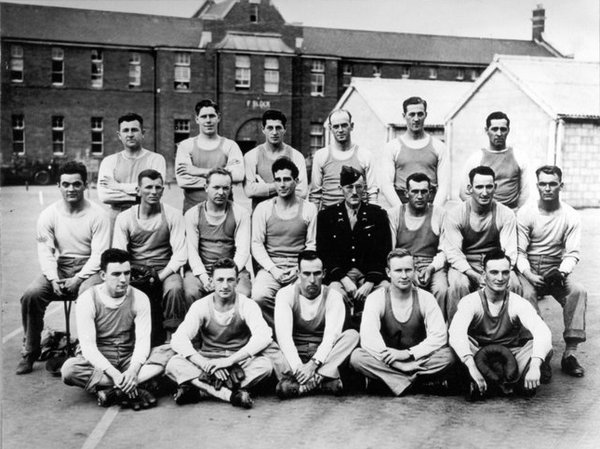 Bill Rowell

(middle row, second from left) with 116th Infantry Regiment Yankees in England 1943
Baseball was far from the regiment's thoughts the following year as the 116th led the assault on Omaha Beach. Three of the players were killed on the beach that morning and it is believed that a fourth died also but has yet to be confirmed. Two additional men were seriously wounded. Bill Rowell led his squad across the beach and inland before being wounded eleven days later. He returned to his unit in August and served until after V-E Day. He was awarded the Purple Heart and the Bronze Star.
He returned to his wife and son in Emporia and lived there until his death in July of 2004.

He loved baseball and continued to play with area baseball and softball teams until he was in his mid-50's.
Thanks to Bill Rowell's son, Billy Rowell for supplying this wonderful biography and the portrait photograph.
Created August 16, 2009.
Copyright © 2009 Gary Bedingfield (Baseball in Wartime). All Rights Reserved.