Go on, why not sponsor this page for $5.00 and have your own message appear in this space.


Click here for details



Ray Kush
Date and Place of Birth: May 11, 1919 Chicago, Illinois
Baseball Experience: Amateur
Position: Shortstop
Rank: Staff Sergeant
Military Unit: 453rd Bomb Group, USAAF
Area Served: European Theater of Operations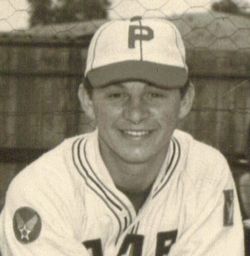 Raymond L Kush was born on May 11, 1919 in Chicago, Illinois. The youngest child of Polish immigrants, Ray grew up playing stickball on the empty lots around Humboldt Park. He attended Cameron Grammar School and Crane High School before getting a two-year course diploma from Lane Technical High School.
In 1936, his elder brother, Emil Kush, embarked on a career as a professional baseball player in the Chicago Cubs' organization. The following year Ray went to a ballgame at Wrigley Field and got the attention of Cubs' coach Roy Johnson. He told the coach that his brother was pitching for the Cubs' minor league team in Ponca City, and was offered a job catching batting practice for the Cubs for the rest of the season.
In 1938, Ray joined the Civilian Conservation Corps (CCC). He was sent to Jacksonville, Illinois, where he drove a delivery truck and became the regular catcher on the group's fast-pitch softball team.
In 1940, he attended a tryout at Wrigley Field, and was among 35 young men selected to participate in the Chicago Cubs Training Camp Inc, an organization designed to train athletes for the major leagues. Billed as a "West Point of baseball", the camp had Bill Veeck Jr as its president and former major leaguer, Wally Roettger, as chief instructor. The camp lasted 11 weeks and games were played at Wrigley Field when the Cubs were on the road. In one game, Ray struck out future major leaguer, Cal Abrams, three times and tripled home the only run in a 1-0 victory.
In September 1940, Ray enlisted with the Army. He arrived at Fort Livingston with the 106th Cavalry on November 12 and remained there until February 1942, when he was sent to Fort Riley, Kansas. The following year, Ray was a member of the Army Air Corps and stationed at Keesler Field in Biloxi, Mississippi. For the next ten months, Ray trained in Colorado, Texas, Idaho and Kansas, before leaving Florida for overseas duty on February 28, 1944.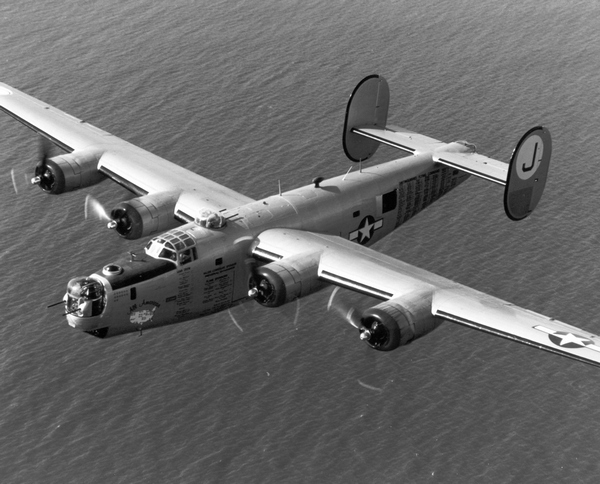 Ray arrived at Attleborough, southwest of Norwich in England on April 4, 1944. Serving with the 453rd Bomb Group, he would fly 32 missions over enemy territory in a Consolidated B-24 Liberator. He flew his last mission on July 24, 1944 and, to avoid being sent to the South Pacific, he worked on the base as a bartender.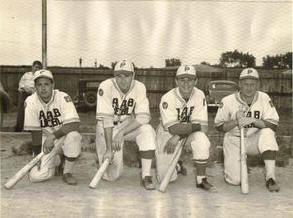 Pueblo Bombers Baseball Team 1945
Left to right: Louis Petta(1B); Neville McNerney(1B); Raymond Kush(SS); Drexel Closs(2B)
Ray returned to the United States at the end of 1944 and was stationed at Pueblo Army Air Field in Colorado. He played for the Pueblo Bombers baseball team, who embarked on a 40-game schedule beginning in April 1945. With two B-24s assigned to them, the Bombers played against military teams in Texas, New Mexico, Wyoming and Colorado, in addition to major league teams, with gate receipts going towards the purchase of war bonds.
The highlight of the Bombers' season was a game at Cleveland's Municipal Stadium against the Cleveland Plain Dealer's "Class A" League All-Stars on July 15, 1945. The game was part of the Cleveland Baseball Federation Annual Amateur Day, with proceeds going to the 23rd Birthday Hospital and Medical Fund.
At the end of the season each player was presented with a watch, and Ray was approached by a minor league team. However, at 26, he chose not to pursue a career in baseball. He returned to Chicago, got married in November 1945 and began a career as a mailer for the Chicago Tribune. Ray lives in suburban Chicago.
Thanks to Ray's son, Raymond D Kush, for the information and photographs contained in this biography.
Created January 8, 2007.
Copyright © 2007 Gary Bedingfield (Baseball in Wartime). All Rights Reserved.