Eddie Kazak
Date and Place of Birth: July 18, 1920 Steubenville, Ohio
Died: December 15, 1999 Austin, Texas
Baseball Experience: Major League
Position: Third Base
Rank: Unknown
Military Unit: US Army
Area Served: European Theater of Operations
Second baseman Eddie Kazak, hospitalized 16 months when wounded in the invasion of Normandy, broke into the Columbus lineup for the first time, April 23, and performed spectacularly with his bat. He blasted two homers in a an eight run eighth frame and also had a single and double in five trips, besides stealing home in the fourth frame, to help the Cards thump Savannah, 10 to 3.
The Sporting News May 2, 1946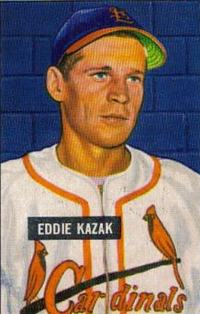 Eddie Kazak was born Edward T Tkaczuk in Steubenville, Ohio, on July 18, 1920. He grew up in Muse, Pennsylvania, a small coal-mining community near Pittsburgh, where he excelled in baseball and soccer and graduated from Cecil Township High School in 1938.
Kazak played sandlot baseball as an infielder and worked the mines with future Phillies' catcher Andy Seminick until signing a contract to play with Valdosta in the Class D Georgia-Florida League in 1940. He batted .292 in 130 games for Valdosta and was signed by the Cardinals' organization for 1941. He hit .378 with 114 RBIs for the Georgia-Florida League's pennant-winning Albany team that year and was with Houston in 1942, batting .257 in 118 games.
On October 1, 1942, Kazak entered military service with the US Army Air Force. He was originally stationed at Brooks Field, Texas, but in 1943 he joined the paratroopers and left the United States for Europe in 1944.
In France, following the D-Day invasion, Kazak sustained a bayonet wound to his left arm. The wound required 19 stitches. A short while later, in the vicinity
of Brest, northwestern France, his right elbow was shattered by shrapnel. He returned to the United States and spent 18 months in hospitals enduring numerous operations including one to put a plastic patch in place of the missing bone in his elbow. When he was discharged from a service hospital in Palm Springs, California, in December 1945, he was told by doctors to forget about baseball.
Despite suffering shooting pains in his arm every time he threw a ball, Kazak reported to the International League's Rochester Red Wings spring training camp in 1946. He was unable to earn a place on the team but played for Columbus in the South Atlantic League, where he got off to a fantastic start on April 23, hitting two home runs a double and a single in five plate appearances, and stealing home to help the Cards beat Savannah, 10 to 3. He finished the year hitting .298 with 14 home runs.
"The arm began to come back with exercise," Kazak recalled to The Sporting News on May 25, 1949, "and it has been getting better every year since.
Kazak opened the 1947 season with Rochester but spent most of the year with Omaha in the Class A Western League, where he hit .326 in 93 games and hit 20 home runs. Kazak shifted from second base to third base in 1948 and spent the year with Rochester, batting .309 in 142 games and being groomed as Whitey Kurowski's replacement on the Cardinals. He made his major league debut on September 29, and appeared in six games for the Cardinals, batting .273, before the season was over.
In 1949, Kazak played 92 games for the Cardinals and batted .304. He was the only rookie to play in that year's all-star game where he was 2-for-2.
In May 1952, the Cardinals traded Kazak to Cincinnati. He played just 13 games for the Reds, getting just one hit in 15 at-bats to signify the end of his major league playing career.
He played for Buffalo in the International League in 1953 and joined the San Diego Padres in 1955, becoming somewhat of a Pacific Coast League legend. Kazak was 40 years old when he played his last professional game with Austin in the Texas League in 1960.
Eddie Kazak passed away in Austin, Texas on December 15, 1999. He was 79 years old.
Created May 25, 2007. Updated January 11, 2015
Copyright © 2007 Gary Bedingfield (Baseball in Wartime). All Rights Reserved.