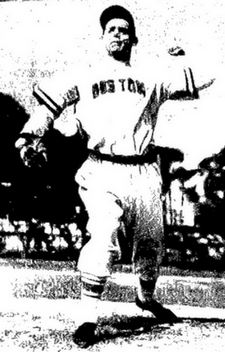 Arthur H "Art" Johnson was born on July 16, 1916 in Winchester, Massachusetts. He attended Winchester High School where he and his future wife, Loretta Gaffney, were named "most athletic" in the class of 1938. A left-handed pitcher, he pitched batting practice to the Boston Braves while still a junior in high school, and struck out 18 batters for Winchester on April 26, 1938 while shutting out Lexington High School, 7 to 0.
Johnson actually signed with the Braves during his junior year but never told anyone so he could pitch for his school team one more season without being declared ineligible.
In June 1938, the day after graduation, Johnson was sent by the Braves to Erie of the Middle-Atlantic League where he had a 2-6 record with a 5.03 ERA. He pitched for Evansville of the Three-I League and Hartford of the Eastern League in 1939. He was with Boston for spring training at Bradenton in 1940, and really made a name for himself with Hartford that year when he was 17-11 with an earned run average of 3.19.
His fine year with Hartford prompted a late-season call-up to the Braves in September 1940, and he made his major league debut, aged 21, against the New York Giants on September 22 at the old Polo Grounds. Johnson came in in relief and the first batter he faced was Johnny Rucker, who grounded back to him.
"I'd always dreamed of playing in the major leagues, and walking into the locker room for the first time gave me chills," Johnson told Jim Keogh of the Holden Landmark in 1997. "Back then we traveled by train, which made the players closer. We ate together, played cards together. It was a far cry from the old broken-down buses in the minors."
Johnson was back with Boston for spring training in 1941. When manager Casey Stengel was making roster cuts he had to chose between Johnson and veteran Wes Ferrell. Stengel chose the rookie, sending the notoriously hot-tempered Ferrell on a rampage through the locker room.
Johnson responded to Stengel's decision by making 43 appearances, 18 as a starter, and had a 7-15 record for the seventh-placed club. His 3.53 ERA shows how well he pitched that year and many of his 15 losses were one and two-run games in which the futile-hitting Braves were unable to support their pitcher. Highlights of the season included a 4-2 win over the Cardinals on June 5, that knocked them out of first place, and a 3-1, seven-hit performance over the New York Giants on August 13. He was also responsible for beaning Terry Moore of the Cardinals on August 20, causing a cerebral concussion that saw the outfielder miss nearly a month of the season.
Johnson appeared to have a promising career ahead of him but war clouds were looming and he remembers being at Loretta's house when he heard that Pearl Harbor was bombed. His first words were, 'Where is Pearl Harbor?' Soon he would be seeing it for himself, but it was not to be the war that ended his playing career. "I had hurt my arm in 1942 in spring training," he recently recalled. "I had pitched three innings against Bob Feller and Casey [Stengel] asked if I wanted to go another inning. In those days you didn't say no. I threw out my rotator cuff in the 4th inning, and the medical profession didn't know how to fix it."
Johnson made just four appearances that season. Stan Hack, the third baseman for the Cubs, advised him he shouldn't even try to pitch. "I can tell it hurts every time you throw," he told the young pitcher.
The one high point of 1942 for Art Johnson came outside of baseball. In May, he married his high school sweetheart, Loretta.
On November 9, 1942, Johnson entered military service with the Navy. He was at Newport, Rhode Island for boot camp, then Washington, DC. He was then assigned to Philadelphia to await the final construction of the light aircraft carrier USS Langley (CVL-27). In late 1943, Johnson went to Pearl Harbor aboard the Langley and on to the Marshall Islands. "I worked in the Captain's office and was a gunner's mate," he said.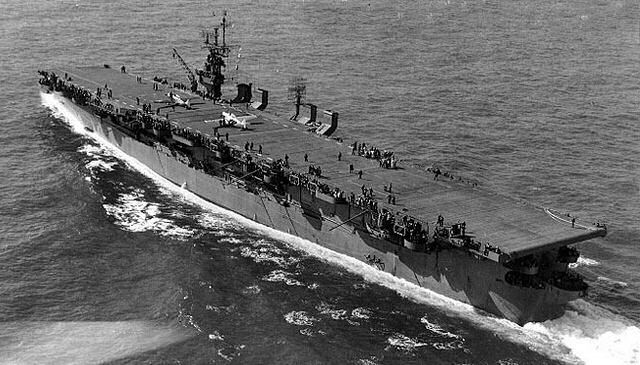 USS Langley (CVL-27)
Yeoman Johnson was at Saipan, Tinian, Eniwetok and went through a cyclone to get to Iwo Jima. "I never experienced anything like it in my life," he said. "It tilted the carrier as far as it could go. It was a petrifying experience."
When they reached Iwo Jima, the Langley's planes were involved in the attempted destruction of Japanese defenses on the island. "We were about a mile off shore," he recalls. "Our bombers spent six days bombing the island, but it didn't bother them [the Japanese] a bit because they were deep in the caves. We didn't know that. We found out later, unfortunately, when our marines went ashore."
Johnson was later wounded, when fragments from a Japanese kamikaze plane that hit the deck of the Langley, tore into his knees.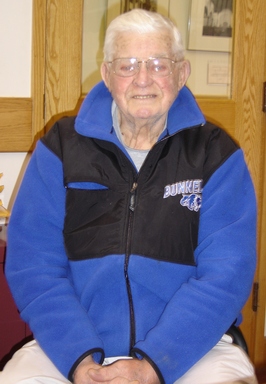 Art Johnson, weeks before his passing in Holden, Massachusetts
(photo courtesy of Stan Haney)
He had little time for baseball during the war years. "The only baseball I played," he said, "was when we would get leave on Eniwetok and have pickup games with guys like Bob Feller and Enos Slaughter. They were just pick-up games for fun. I pitched against Bob Feller. Slaughter played like it was a World Series. He'd be bleeding and so forth and going full bore. Baseball was always serious to him"
Johnson was discharged from service in October 1945. "I went to spring training in 1946 but could not make it," he recalled. "My arm was still sore, and, of course, my knees were damaged by the kamikaze attack. Billy Southworth was the manager, a really nice guy. I did get a disabled military pension because of the injury.
"When people ask about my career record," Johnson said, "I tell them that together Warren Spahn and I won over 370 games. Of course, Warren won 363 of those."
Looking back on his baseball career, Johnson remembers Casey Stengel as a great manager who really knew his baseball, was a good teacher and had a good rapport with all his players. "He had all the time in the world for the rookies," he said.
Johnson sold sporting goods for Wilson, then went to work for an insurance company, going to college at night to learn sales and accounting. In 1955, he moved to Holden, Massachusetts, about 60 miles west of Winchester, originally on a temporary transfer, but stayed there because he and Loretta had three children and were impressed with the schools.
He bought his own insurance agency in 1960, which he sold in 1987, and continues to live in retirement in Holden.
In 1997, Johnson was among many former Braves invited to Fenway Park to commemorate the Atlanta Braves' interleague series with the Red Sox, the first time the Braves played in Boston since they defected to Milwaukee in 1953. Johnson was in the Braves' dugout before the game and chatted with manager Bobby Cox. During their conversation, Johnson asked Cox if he could get Chipper Jones to autograph a ball for Johnson's grandson.
"He did better than that," said Johnson. "As the ballplayers ran off the field, he handed each of them the ball, one by one, and had them sign it. Greg Maddux, John Smoltz. Fred McGriff. All of them. Cox pointed toward me and told them, 'Here, sign this ball, because without guys like him, you wouldn't be here.'"
In March 2008, I contacted the Gale Free Library in Holden, Massachusetts, to see if they had any information on Art Johnson's military service. Assistant Director Stan Haney kindly offered to interview Art on my behalf. The results of that interview are the core of this biography and I want to thank Stan for his interviewing skills and Art for allowing this interview to take place.
Sadly, just a few weeks after this interview, Stan Haney told me that Art Johnson passed away. "As it turned out," Stan said just days after his passing, "he lives near me; in fact, I walk by his house on my way to and from work. Last week we had beautiful weather so Art was sitting on the porch several days as I walked by and I stopped and chatted with him. He was a sweet, kind man and I feel so lucky to have gotten to know him. You can take the credit for that, for without your interest, I am sure that he would have passed on and I would never have gotten to know this new friend."
Created April 2, 2008. Updated April 30, 2008.