Go on, why not sponsor this page for $5.00 and have your own message appear in this space.


Click here for details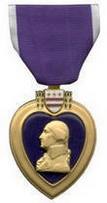 Joe Gubernot
Date and Place of Birth: January 1, 1920 Newark, New Jersey
Baseball Experience: Amateur
Position: Shortstop
Rank: Private First Class
Military Unit: 116th Infantry Regiment, 29th Infantry Division US Army
Area Served: European Theater of Operations
It was played on makeshift ballfields in far away England more than 60 years ago, but Joe Gubernot - now 88 - still remembers the ETO Word Series of 1943.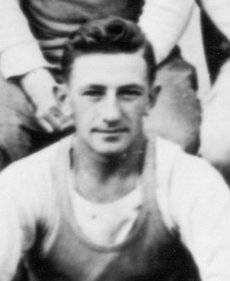 Gubernot was born in Newark, New Jersey on January 1, 1920. A shortstop, he played ball on the sandlots of Shamokin, Pennsylvania before joining the Army in
February 1942. Stationed in England with the 116th Infantry Regiment of the 29th Infantry Division, conditions were not ideal for baseball but the regiment still put a team together. "We played in Plymouth on a dog race track," recalls Gubernot. "We were training on the moors and playing baseball on the weekend."
The 116th Infantry Regiment Yankees entered the ETO Word Series of 1943 as a dark horse team. They surprised everyone by cruising past their opponents and Gubernot was a key part of the team's success. In addition to his defensive work at shortstop he hit a three-run homer early in the tournament and scored a decisive run in the final game.
But with the championship in the bag it was time to stowe away the baseball equipment and concentrate on the job at hand - defeating Nazi Germany.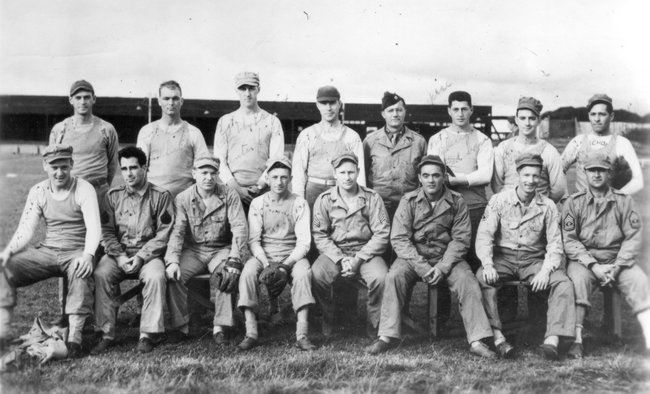 Joe Gubernot (front row, fourth from left) with 116th Infantry Regiment Yankees in England 1943
Private First Class Gubernot was a member of K Company. "We landed at Omaha Beach ( H + 50)," he recalls. "I was on Boat 6. My job was a runner for Lieutenant Ray Hellekson."
Gubernot got through the first couple of months unscathed but was wounded on August 8,1944 in Vire, France. He was sent to a hospital in England and returned to the front around November 20,1944, at Koslar, German. From there the 116th Infantry made a push from the Rohr River to the Rhine. He was eventually sent home on the
Queen Elizabeth
on November 14,1945.
"After the war I went back to playing semi-professional ball," Gubernot says. "I had a chance to go to spring ball with the Williamsport Greys [a Detroit Tigers' farm team] but turned it down."
Gubernot became something of a legend on Shamokin's baseball diamonds with teams such as Krebs Electric and the Liberty Fire Company. He was later inducted into the local Hall of Fame.
In the spring of 2008, Joseph Gubernot and Carl "Chubby" Proffitt - both former members of the 116th Infantry Regiment Yankees ball team - have been invited to the National Baseball Hall of Fame in Cooperstown, New York to tell their story.
Created February 25, 2008.
Copyright © 2015 Gary Bedingfield (Baseball in Wartime). All Rights Reserved.